Five people have been arrested after a bomb was found in a trendy Paris neighbourhood on 30 September. A member of the public alerted authorities to the device in 16th arrondissement during the early hours.
Police discovered two gas cylinders strapped to a mobile phone in the hallway of a building near Porte d'Auteuil. A further two gas cylinders were found outside the building.
Police deactivated the device at around 4.30 am local time, France 24 reports. The mobile phone is thought to have been intended as a detonator.
The discovery came the day before a suspected terrorist knifed two women to death at a train station in Marseille. The incidents are not thought to be related.
One of the five people arrested in connection with the failed bombing was on a terrorism watch list, Interior Minister Gerard Collomb told French radio.
"[Police] services are investigating. What I can tell you is that among the people who were arrested, one was radicalised," he said
The 16th arrondissement is home to many of Paris's most famous attractions, including the Parc des Princes and Roland Garros Stadium. It is often compared to London's Kensington for its upmarket buildings and inhabitants.
Although this plot was foiled, the stabbings in Marseilles brought the number of people killed by jihadist attacks in France to 241 since 2015.
The suspect, who was shot dead by soldiers, reportedly shouted "Allahu Akbar" during the attack.
On 3 October France's parliament will vote to on a new counter-terrorism bill that will make it easier to place suspects under house arrest, search properties and prohibit mass gatherings.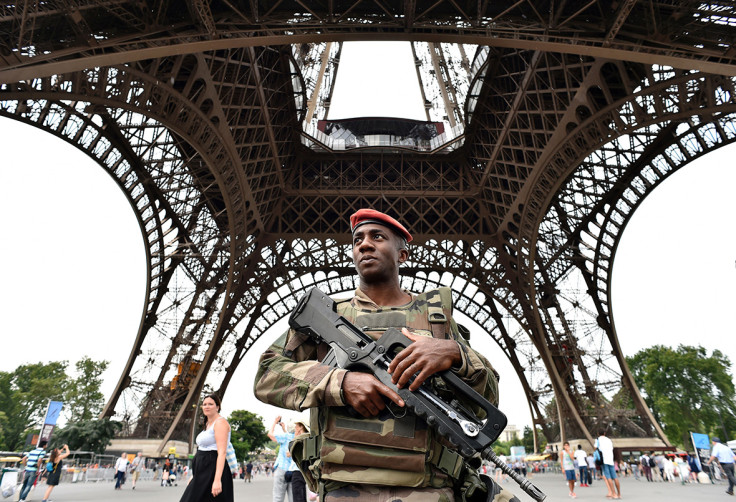 If enacted, the new law will dissolve the two-tier state of emergency system currently in place, allowing the government to bypass the judiciary. Human rights campaigners say this will hand too much power to the state.
However, Collomb said the weekend's incidents demonstrate the need to tighten up security legislation in France, which has been in a state of emergency since 2015 when 130 people were killed in coordinated attacks across Paris.
The UK parliament passed a similar piece of legislation – The Prevention of Terrorism Act – in 2005, which allowed the Home Secretary to impose "control orders" directly over suspected terrorists.
The controversial law was eventually repealed in the 2011 Terrorism Prevention and Investigation Measures (TPIM) Act. Control orders were replaced with TPIMs – giving the Home Secretary watered down powers to deal directly with suspects.