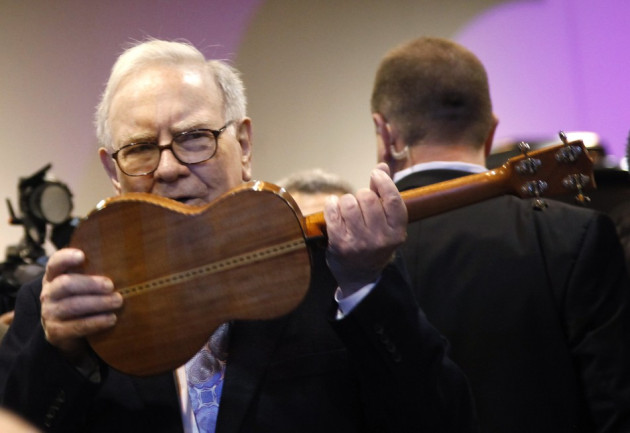 Singer Jon Bon Jovi and billionaire investor Warren Buffett have joined forces to create one of the least likely musical duos in history.
In what Buffet called a "once-in-a-lifetime experience", the pair took to the stage at the Forbes 400 Summit on Philanthropy, a gathering of the world's most generous donors organised by American magazine Forbes.
At the end of the dinner reception, the Bon Jovi and Buffett - dubbed the $50bn Duo - entertained the 161-strong billionaires and near-billionaires audience, performing live a cover of Bette Midler's "Glory of Love".
Bon Jovi played guitar while Buffett was on the ukelele - an instrument he mastered in his youth in a bid to pick up girls.
"This has been described as a once-in-a-lifetime experience, and you'll understand why - once will be enough," Buffett said before striking up the first verse.
His bandmate, meanwhile, professed to being more nervous than he gets before a stadium show: "The world's greatest thinkers are here, the most generous hearts and minds and souls are here in the room," Forbes reported.
Buffett's millionaire philanthropy is well known - in 2006 he pledged the equivalent of $30bn in shares of his investment company Berkshire Hathaway to his multibillionaire friend Bill Gates's charitable foundation.
Bon Jovi is also committed to charity, having topped Forbes' 'most charitable celebrities' list, in which VIPs are ranked according to the share of fame and time they use to support good causes.
The rock star and his Bon Jovi bandmates donated $1m to Hurricane Katrina relief and subsequently had a road named after them, Bon Jovi Boulevard, in Houma, Louisiana.
Through the Jon Bon Jovi Soul Foundation, the singer has channelled about $9m to families and individuals experiencing severe economic problems. He has also opened a "pay-what-you-can" restaurant in New Jersey to provide worse-off people with an alternative to junk food.
Bon Jovi's full-bloodied committment to philanthropy began one wintry evening in 2005 when the rock star peered out of his Philadelphia hotel room window and noticed a homeless man huddled against the side of a building. "I thought, now here's something where we can affect change without a scientist to invent a cure."