Boris Johnson has accused Saudia Arabia of abusing Islam and acting as a puppeteer in the Middle East, to further its own political aims.
In what was perhaps a moment of personal frankness, the foreign secretary broke the Foreign Office's typical convention not to criticise the UK's allies in public.
Johnson also criticised the Gulf State's actions, as well as those of Iran's, in how they manipulated the Sunni-Shi'ite divide, creating a "tragedy" in the Middle East.
He made the comments at the Mediterranean Dialogues in Rome, an event which discusses policy issues, on Thursday 1 December.
Responding to the statement that religion was being used as a political tool made by Ahmed Aboul-Gheit, Secretary General of the Arab League, Johnson said: "You've put your finger on the whole problem. There are politicians who are twisting and abusing religion, and different strains of the same religion, to further their own political objectives.
"That is one of the biggest political problems in the whole region. And the tragedy for me – and that's why you have all these proxy wars being fought the whole time in that area – is that there is not strong enough leadership in the countries themselves.
"There are not enough big characters, big people, men or women, who are willing to reach out beyond their Sunni or Shia or whatever group to the other side and bring people together and develop a national story again. That's what's lacking and that's the tragedy."
He added: "That's why you've got the Saudis, Iran, everybody, moving in, and puppeteering and playing proxy wars."
Johnson's criticism of Saudi Arabia comes as Theresa May returned from a two-day visit to the Gulf, where she revered the Saudi royal family for their leadership and the value of the 100-year-old alliance with the UK.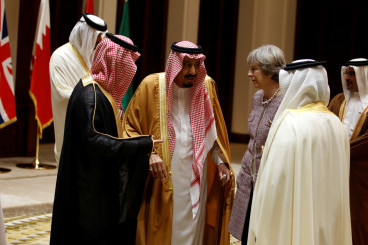 Foreign Office officials have often soft-peddled on Saudi Arabia's human rights abuses, opting instead for gentle reform, due to the sensitivity toward the country's leaders and the value of arms deals with Britain.
The Royal Navy has also established a major naval base in Manama, the capital of Bahrain.
Johnson, who is not unfamiliar with making political gaffes, will have to face up to his comments as he is due to visit the Gulf this weekend.
In his criticism, Johnson also referred to Cyprus as an example of how leaders in the Middle East could tackle the issue of sectarianism.
He said: "I've just come from Cyprus where I have seen one example of how this can happen.
"It's not there yet. It is still very difficult. But you have two leaders, from the Greek community and the Turkish community, who are trying and they are taking risks, each is taking risks with its own community, to try to bring that island together.
"I see that in Cyprus and I have to tell you I don't see it anywhere else in the region."
He added: "It's a tragedy to watch it. We need to have some way of encouraging visionary leadership in that area.
"People who can tell a story that brings people together from different factions and different religious groups into one nation. That's what is missing."