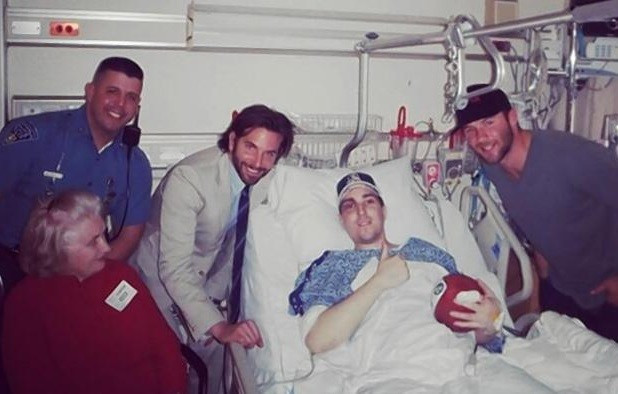 Hollywood actor Bradley Cooper has lent his support to those left injured in the wake of the Boston marathon bombings by paying a surprise visit to the hospital where they are recovering.
The Silver Silver Linings Playbook star was at the bedside of survivor Jeff Bauman - who lost both his legs below the knees in the explosion near the finish line Monday as well as other patients at the Boston Medical Center.
In a photo posted online, Cooper and New England Patriots receiver Julian Edelman can be seen posing beside the 27-year-old who has become one of the faces of the Patriot's Day massacre after a now iconic AP photo captured him being whisked away in a wheelchair.
Sharing the snap with 97,000 followers, Cooper tweeted: "Visited #survivor #stud #hero Jeffrey Bauman Jr. today. He was looking great and is a true inspiration. #strong."
Edelman, a local fan favourite, has also made the rounds at Boston Medical Center, visiting victims and their families.
Bauman has been hailed for his bravery after helping investigators hunting for the bombers responsible for the blasts, despite the severity of his injuries.
According to Bloomberg News, his description of one of the bombers helped the FBI helped narrow down the search for the suspects through surveillance footage.
After regaining consciousness in intensive care, the Concord, N.H. man apparently wrote on a piece of paper: "Bag, saw the guy, looked right at me."
A massive police manhunt is currently underway for one of two men suspected of carrying out the bombing which killed three people and injured 176
Dzhokhar Tsarnaev, 19, remains at large after he escaped during a shootout with police in which another suspect, his brother, died.
Eight-year-old Martin Richard, from Boston, 29-year-old Krystle Campbell, from Medford, Massachusetts and 23-year-old Boston University student Lu Lingzi, from Shenyang, Liaoning were all killed by bombs which exploded near the finish line of Monday's race.
READ MORE: Dead Boston Marathon Bomber Named as Chechen Boxer Tamerlan Tsarnaev
Boston Marathon Bomber Identified as Dzhokhar Tsarnaev from Chechnya
Sunil Tripathi Missing Brown University Student and Mike Mulugeta Wrongly Identified as Boston Bombing Suspects
Boston Marathon Bomber Identified as Dzhokhar Tsarnaev from Chechnya