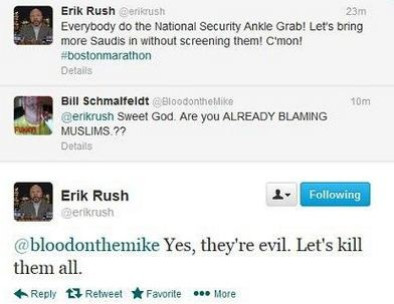 A prominent American journalist has blamed yesterday's Boston Marathon bombings on Muslim terrorists, while British singer Cheryl Cole has said she wants the world to stop in the wake of the attacks.
In response to yesterday's twin explosions, which killed three people and injured more than 140, celebrities have been flocking to express their shock, anger and resentment on Twitter, where "#Boston Marathon" and "#Pray4Boston" are trending.
Perhaps the most inflammatory reaction has come from Fox News contributor Erik Rush, a black conservative columnist and author, who posted a message on Twitter blaming the bombing on Muslim terrorists.
"@erikrush Everybody do the National Security Ankle Grab! Let's bring more Saudis in without screening them! C'mon! #bostonmarathon."
His tweet prompted another user Bill Schmalfeldt to ask, " Sweet God. Are you ALREADY BLAMING MUSLIMS??"
Rush reportedly responded by saying "Yes, they're evil. Let's kill them all." He later deleted the post, claiming it was "sarcastic".
More moderate reactions have been provided by the likes of Justin Timberlake and Simon Cowell, as well as the Kardashian sisters and rising actress Kat Dennings.
Timberlake wrote that "My thoughts and prayers are with everyone in the city of Boston and all of those affected by this terrible incident." Fellow mogul Cowell said he was "Watching the news. Horrendous. Please god no more bombs. Stay safe America."
Dennings wrote "This is crazy. Glued to the TV, so scary. Thoughts and prayers with Boston right now." Her fellow actress Olivia Wilde responded by writing "Oh for fucks sake. I'm so disturbed by the reports from Boston. This is horrible."
Khloe Kardashian talked of "So many unspeakable tragedies! My heart, love and prayers go out to anyone affected by the sad events in Boston. #PrayForBoston". Her sister Kim wrote "My heart is breaking for everyone effected or injured in the explosion at the Boston Marathon. God bless you all! My prayers are with you!"
Talk show host Ellen DeGeneres implored the Twitterverse to "send our thoughts, our prayers and our energy to the people injured in Boston," while fellow showbiz veteran Paula Abdul said she was "holding the people of Boston in my heart."
Victoria Beckham echoed the common mood, saying simply that "my thoughts are with the people of Boston." Her close friend Cole went further, saying "Sickened and saddened!! Thoughts go to everyone affected in Boston !! Stop this world. I want off #PrayforBoston".