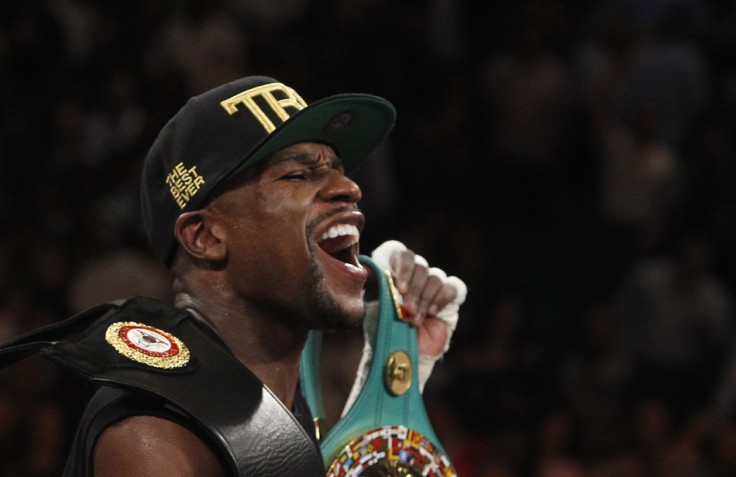 Floyd Mayweather has got the boxing world talking once again after he hinted that he would make an announcement about his next opponent in the coming days.
"Next week. I'm looking forward to next week," Mayweather told Mlive.com when asked about potential opponents.
The five-division world champion is set to defend his WBA and WBC light middleweight titles on 3 May 2014 and this time it is unclear just who will be handed the opportunity to face the pound-for-pound best number one.
This time last year it became obvious that Saul Alvarez was the only genuine possibility but after schooling the Mexican sensation over 12 rounds no-one knows who will face Mayweather in his hometown of Las Vegas.
Could Khan Become King?
Amir Khan's name has been mentioned on several occasions and the British fighter is seeking an opponent after pulling out of a bout with Devon Alexander.
Despite having three losses on his record, and never having fought at welterweight, he remains a genuine candidate. This has as much to do with his in ring skills as is does with his marketability, as Khan remains a superstar on both sides of the Atlantic.
The 26 year old has fast hands, slick skills and great movement but he has been exposed by powerful punchers. Some pundits, such as Glenn McCrory, genuinely believe he could cause Mayweather some problems but what is for sure, is that the fight would be a box office event for broadcasters in England and America.
Is Pac Back?
Another fighter guaranteed to present an attractive financial reward for Mayweather is his long-term rival Manny Pacquiao. The Filipino returned to winning ways in a one-sided contest with Brandon Rios and his name was once again thrown in the mix.
He is the one fighter we have always wanted to see share a ring with Mayweather, even if he is somewhat past his prime. Pacquiao is a bullish fighter, with exceptionally fast hands, wonderful skills and genuine power.
People want to see how Mayweather would react when faced with this kind of fighter and the American has previously called out Pacquiao on several occasions. However, there are numerous problems in making this fight happen.
They have deals with rival broadcasters, neither man has previously been willing to take a lower share of the fight revenue and Pacquiao was believed to have refused to accept to being drug tested when the fight was discussed a number of years ago.
If all of these issues can be resolved then this would be one of the biggest fights of the last decade. It would sell out in seconds and Mayweather could finally prove why he feels he has always been the very best fighter in the world.
Someone's 0 Has to Go?
Having controversial beaten Pacquiao; won a war with Ruslan Provodnikov, and earned a split decision victory over modern-day legend Muan Manuel Marquez, Timothy Bradley is the most deserving of a shot at Mayweather.
The 30 year old has thrilled fans in recent fights and is ranked as the number one welterweight in the world by respected boxing website BoxRec. The fighter nicknamed Desert Strom has demonstrated his ability to fight with different styles and to a gameplan.
Bradley may not have a huge global appeal like the other two fighters mentioned, but his epic bout with the teak-tough Russian Provodnikov earned him an army of admirers.
He has yet to taste defeat in his 32 professional fights and having defeated just about every world class welterweight on the planet, is fully deserving of an opportunity to test himself against Mayweather.
Other potential candidates - Devon Alexander, Adrien Broner, Danny Garcia, Lucas Matthysse, Gennady Golovkin.