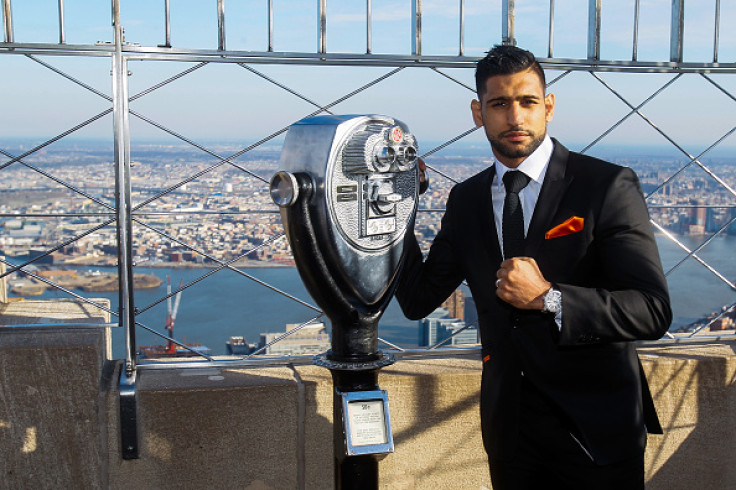 India's boxing star Vijender Singh has accepted British ace boxer Amir Khan's challenge to fight in India. Khan, who is currently training for his much anticipated World Boxing Council (WBC) title contest against Mexico's Saul 'Canelo' Alvarez, had thrown a challenge, claiming he wanted to fight Singh in India.
Singh who won bronze in the middleweight division at the 2008 Beijing Olympics accepted the challenge as he feels it will help promote boxing.
"I accept the challenge of Amir Khan and I am sure this fight will be a big boost to boxing in our country. As we both fight in different weight categories, we will have to see whether Amir gains or I have to lose weight. I started my professional boxing career only last year and have made just four appearances in the pro ring," said Vijender as quoted by Indian Express.
Fans will be disappointed that the fight will not be taking place anytime soon, with the clash a year or two away. Khan has a lot more experience than Singh with 34 bouts to his credit.
"It might just take one more year when I will be ready to fight against Amir. I am sure this fight will attract international limelight and attention. Currently, I am focused on my next fight scheduled for 30 April against Matiouze Royer at Copper Box Arena."
The difference in weight also might prove to be an obstacle with Neerav Tomar, CEO and MD of IOS Boxing Promotions, saying: "Technically, Amir Khan boxes in middleweight (72.5 kg) while Vijender is in super middleweight (76 kg). Of course a fight is technically possible but may be next year or in 2018. Either Amir has to gain weight or Vijender needs to lose some. For Amir with his body structure I am not sure whether he can. Ditto Vijender. Thus it's very much possible, but the technicalities exist."