Oscar De La Hoya claims boxer Amir Khan will beat world middleweight champion Saul 'Canelo' Alvarez easily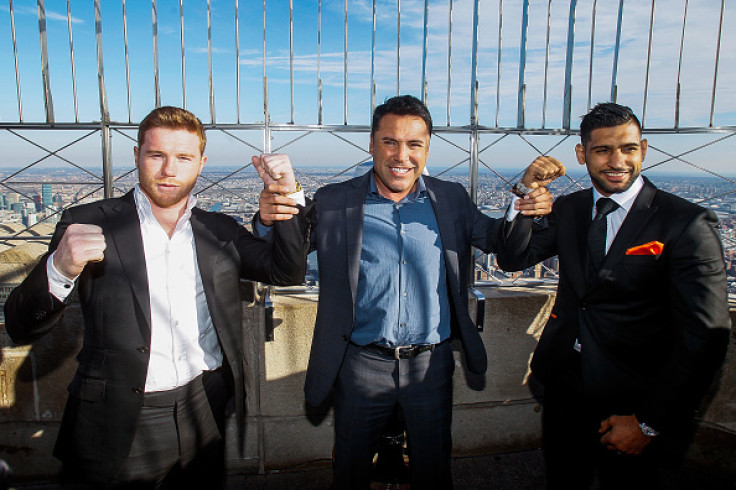 Former world champion Oscar De La Hoya has claimed that Amir Khan will win his bout against world middleweight champion Canelo Alvarez easily, only if he uses his speed. Khan and Alvarez will face off on 7 May at Las Vegas in what is a keenly awaited match.
De La Hoya, a former professional boxer and called the "Golden Boy" was of the view that if Khan sticks to his game plan he will win the tie. "Amir must adhere absolutely to his game plan. He will have to fight the perfect fight. If he does that, if he stays on the outside and moves from side to side and uses that speed of his, in and out, he not only wins but wins easily", as was quoted as saying by DailyMail.
The 29-year-old Brit is moving up from welterweight to middleweight to face Alvarez, but that is not something that De La Hoya is worried about. Since this will be the biggest fight of Khan's career, he will be ready for it, De La Hoya said.
"Remember what happened-Sugar Ray Leonard went up to fight the awesome Marvin Hagler and everyone feared for his life because of the natural difference. But Amir will be fine as long as he resists the urge to engage with Canelo.
"But this is overdue for Amir. Pacquiao and Mayweather both refused to fight him but now he has the superfight he deserves against the young man who has taken over from Manny and Floyd as the biggest star in boxing, Canelo," he added.
The fight against the Mexican will be the biggest in Khan's 11-year career. The British born boxer of Pakistani origin has insisted that his weight gain will not affect his speed and that a win over 'Canelo' will make him the biggest name in the sport.
© Copyright IBTimes 2023. All rights reserved.