Toddler Mauled by Dogs in Pittsburgh Zoo 'Because Mother Tried to Get Him Better View'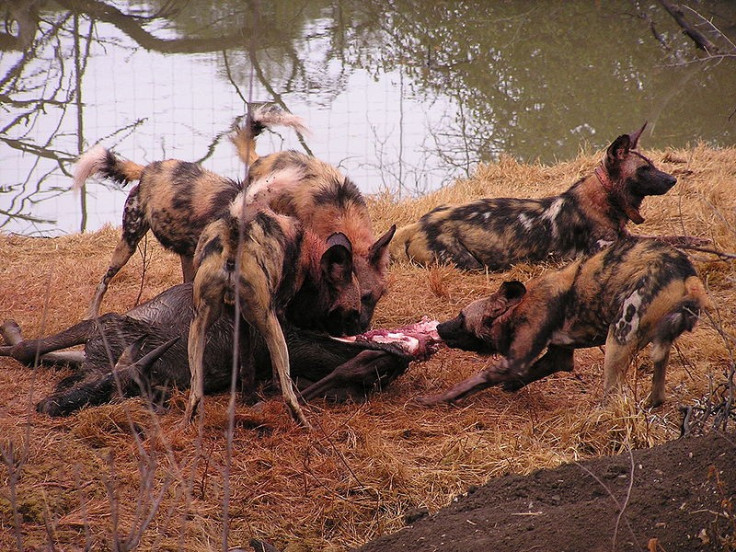 A two-year-old has died after falling into a Lycaon pictus - or African painted dog - pen in Pittsburgh Zoo as relatives and bystanders looked on.
The victim's mother, who has not been named, was trying to give her son a better view of the animals by picking him up and putting him on top of a railing at the edge of the viewing deck.
Authorities said the mother is 34 and lives in Pleasant Hills outside Pittsburgh. The boy's father arrived at the scene after the incident.
The accident occurred on Sunday at around 11.45am. Lieutenant Kevin Kraus, of the Pittsburgh police, said: "Almost immediately after [being hoisted up] he lost his balance, fell down off the railing into the pit, and he was immediately attacked by 11 dogs. It was very horrific."
Zoo staff responded quickly and managed to get some of the dogs away; seven of them went back to their shelter immediately. Three had to be coaxed away from the child after refusing to leave initially, and one was so aggressive that police had to shoot it.
Barbara Baker, president and chief executive of the Pittsburgh Zoo & PPG Aquarium, said the dogs were in "pack mentality" when they mauled the boy after he fell.
Steve Feldman, a spokesman for the Association of Zoos and Aquariums, said he and others he has spoken to cannot recall any children dying at a zoo in the last 40 years. Pittsburgh Zoo recently passed its mandatory five-year review, meaning it had met safety standards.
Zoo officials said there is a mesh barrier beyond the railing where the toddler fell, but Kraus said this was designed to catch small objects, like cameras, and not people.
The endangered African painted dogs are medium sized and weigh between 40 to 80lbs. They are around two feet tall and have large rounded ears and brown circles round their eyes.
The pack that attacked the child were part of an exhibition called the Painted Dog Bush Camp, which is part of a larger area called the African Sayanna. In this part of the zoo, elephants, lions and other animals can be viewed from a deck with glass to the sides.
After the attack, the zoo was immediately closed and it is unknown when it will reopen.
© Copyright IBTimes 2023. All rights reserved.