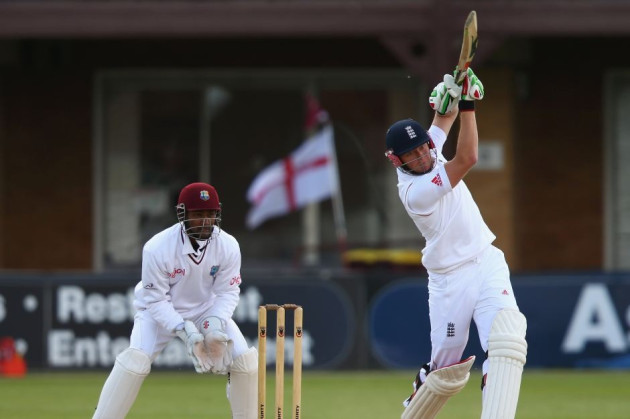 Former Yorkshire and England cricketer Geoffrey Boycott insists Jonny Bairstow deserves his place in the England side but must improve ahead of the test series against South Africa later this summer.
Bairstow scored just four runs from 17 deliveries before he was caught off the bowling of Kemar Roach in England's first innings.
The 22-year-old appeared particularly vulnerable against the short ball and Boycott believes England's young batsmen will continue to struggle against genuinely fast bowlers given the dearth of talent in county cricket.
"I believe Jonny is the most talented young batsman in England. He has a wide array of strokes," Boycott told the Telegraph. "He can hit the ball powerfully, he is a competitive individual and I think he is dead lucky as well because he has got a bit of charismatic appeal.
"[But] today young kids like Bairstow hardly ever see a genuine fast bowler in county cricket. The best bowlers in the world are playing that much they are rarely allowed to play for the counties.
"And if they are allowed to play any cricket outside their own country then they go to the Indian Premier League and earn a fortune. Why would they play county cricket for peanuts?
"So I do understand that youngsters coming into international cricket do not have the exposure to fast bowler I had when growing up."
During a three-year first-class career for Yorkshire, Bairstow impressed as much for his mental toughness as in his shot selection, and he deserves to retain his place for the third Test at Edgbaston on 7 June. But Boycott cautioned the youngster would have to learn quickly, with the South African pair of Dale Steyn and Morne Morkel likely to provide a much sterner test in the summer.
"Jonny found out the realities of Test cricket very quickly at Trent Bridge on Sunday when he faced a genuine fast bowler in Kemar Roach who bowled with aggression, real pace and accuracy to give him a working over," said Boycott.
"His first two balls were gloved and could have gone anywhere. After that he played pretty well. He moved his feet, got deep in the crease, and moved back and high in the air to keep the bouncer down. Finally he succumbed to a short ball when he tried to turn it too square to leg, moved into the shot too soon and got a leading edge to mid-on.
"After he was out the stump microphone picked up the England captain, Andrew Strauss, telling the new batsman, Matt Prior, the ball came off the pitch slow. In other words Jonny played too early. That is Test cricket."