Brandt Snedeker did not show any signs of nerves on the final day of the PGA Tour Championship in Atlanta as he held off competition from Justin Rose to claim the Fedex Cup jackpot of $10million.
The 32-year-old went into the final round level on eight under par with Rose, knowing that he would have to beat the Englishman in order to stop Rory McIlroy picking up the huge pay cheque.
Snedeker held his nerve to shoot a three under par final round, while Rose holed a long putt at the 18th for a round of 71 which left him in second place, some three shots behind the American.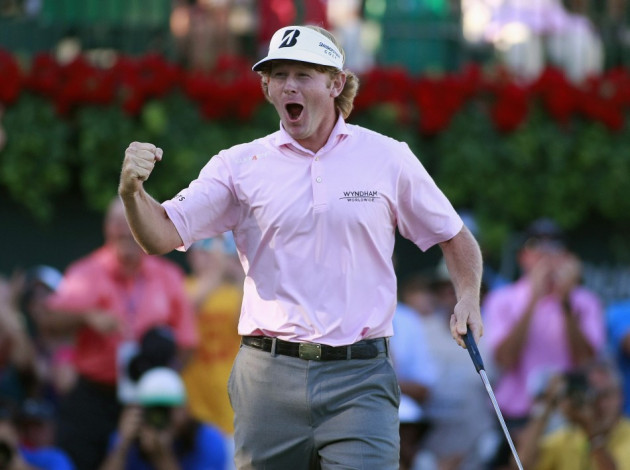 The Ryder Cup wildcard pick did shoot a double bogey at the sixth, but he was rarely in trouble of losing his lead and victory was confirmed when he chipped in on the 17th to land another birdie.
After claiming the richest prize in golf, Snedeker revealed that he was not planning any flashy purchases and was instead going help his local community.
"I'm not by any means a flashy guy," said Snedeker after winning the tournament. "Of anybody that I know, I do not need $11 million. So there are going to be things we can do to really help people.
"So that's the way I look at it. This is unbelievable to be financially stable for the rest of my career. As long as I'm not an idiot, I should be fine, really.
"I really think we can make a difference and help a lot of people out in Nashville and Tennessee and the surrounding areas."
The only person that could have denied Snedeker the prize money was world number one McIlroy who needed Rose to claim first place.
"I just said to Justin I wish he had done me a favour," joked McIlroy. "I have to stay positive. It's been a great year and I've had three wins, starting at the PGA Championship.
"I knew if I won this week I won the whole thing, but Brandt knew the same thing and he did what he needed to do. He played fantastic out there."
McIlroy did still finish second in the Fedec Cup ranking and will receive a $3million, while Tiger Woods eventually came third and takes home $2m.