Brazil: Amazon rainforest fires blamed on logging gangs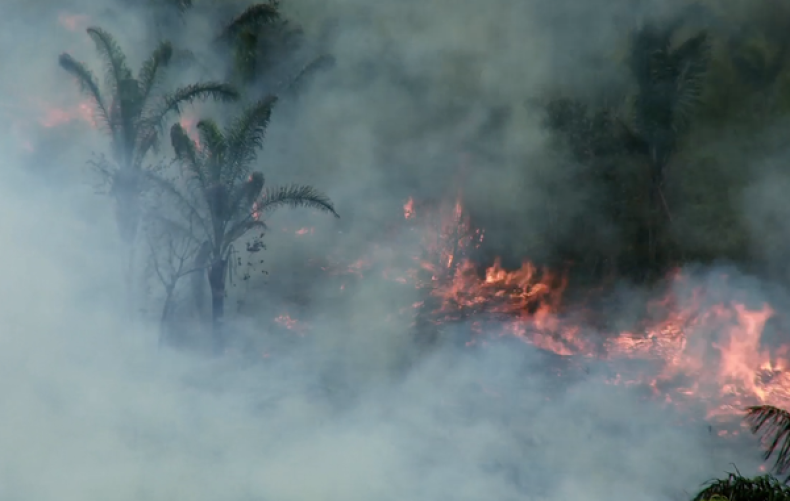 Fires in the Amazon rainforest in Brazil are deliberately started by illegal loggers, tribal rights group Survival International has said. The loggers want to rid the forests of their tribes even at the cost of destroying them.
The organisation said the matter was a routine business in the north-eastern state of Maranhao where a fire has been raging across a large area of the rainforest since mid-November. These fires are "almost certainly started by logging gangs".
"The handling of this fire is business as usual from the logging mafia that runs rampant in Maranhao," Survival director Stephen Corry said in a statement. "As long as there are powerful vested interests determined to drive tribal peoples from their ancestral lands and ignore their rights in order to exploit the Amazon, catastrophes like this will continue to happen."
The recent forest fires in Maranhao follow a similar blaze that broke out in the state's Arariboia indigenous land in September charring about 220 hectares of land for over two months and threatening a small group of Awa tribe living in the area. That fire was also believed to have been started by loggers.
According to the Awas, one of the last surviving hunter-gatherers in the Amazon, they have made repeated efforts to extinguish fires only to find more starting again, a pattern which the organisation said indicated deliberate human efforts. They said the natural dry season was not responsible for the fire.
"What will we do with no food and no forest? The fire is destroying our animals, and we are very worried. The loggers are setting our forest on fire – we've seen armed loggers! We try to put out the fires in one place and they spring up in another," an Awa man was quoted as saying by the group.
Survival accuses the Brazilian state government of little support to save the tribe and their forest because of the racist attitude of some politicians against the indigenous people. "In a speech to ranchers earlier this year, Maranhão state deputy Fernando Furtado said Amazonian Indians are 'a bunch of little gays' and that they should die of hunger," it said.