Racist internet trolls in Brazil are getting a dose of their own medicine after an anti-racism campaign group put up giant billboards outside their homes plastered with their comments. The trolls are being trolled by Criola which identifies the location of the commenter and then buys billboard space nearby for its ingenious way to shame.
The campaign called "Racismo Virtual, Consequencias Reais" (Virtual Racism, Real Consequences) was inspired after the incident of news channel Jornal Nacional's black weather presenter Maria Julia Coutinho was racially abused on its Facebook page.
Criola uses the geotagging feature that is on every post to identify the whereabouts of the commenter then blows-up their comments with the intention that they'll know they cannot hide behind the computer. While the shaming is in plain sight, naming isn't with the poster's name and picture blurred out.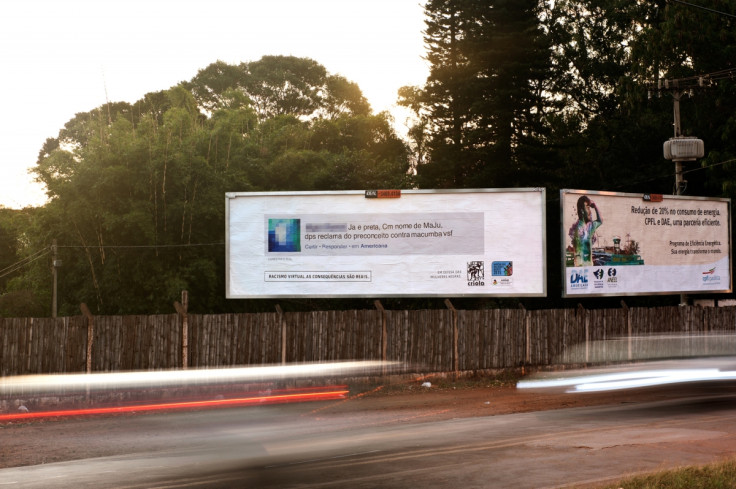 "We omit names and faces of the authors because we have no intention of exposing anyone. We just want to educate people so that in future they think about the consequences before posting racist comments," said the Racismo Virtual website.
This is a novel idea, no doubt, but it sadly will struggle to be able to totally stamp out the torrent of vile racist, homophobic and toxic comments posted online around the world everyday. However, even if this localised exposure makes one troll stop and think before doing it again it's a success.
"Those people [who post abuse online] think they can sit in the comfort of their homes and do whatever they want on the internet. We don't let that happen. They can't hide from us, we will find them," Criola's founder Jurema Werneck told BBC Trending.
Racist commentary in Brazil is against the law and is an offence that can result in imprisonment however Criola believes the government is not doing enough to enforce it. The campaign has so far erected five billboards and has gained a positive reaction from the public. It's payback time, trolls.