Islamic State (Isis) has called Anonymous "idiots" after the hacktivist collective threatened to launch massive cyber attacks against the terror group. The comments came through one of IS's official channels on the messaging app Telegram, which was the first platform to publish statements from the group claiming responsibility for last week's terror attacks in Paris.
Anonymous announced its "biggest operation ever" against IS over the weekend under the banner #OpParis, promising to take down IS websites and social media accounts used to disseminate propaganda and recruit jihadists. More than 5,500 Twitter accounts have already been taken down as a result of the campaign, however IS mocked the cyberwar rhetoric of Anonymous for its limited potential.
The message, which came from "ELITE SECTION of IS" on the official English-language Telegram channel, stated: "O' brothers of tawheed This message have reach to All Ansar for the importance. The Anonymous hackers threatened in a new video release that they will carry out a major hack operation on the Islamic state (idiots) what they gonna hack all what they can do is hacking Alansar twitter accounts, emails .etc. [sic]"
Advice is also given by IS on how individuals can avoid being hacked, instructing IS members to use VPNs (virtual private networks) in order to disguise their IP address, as well as avoiding Twitter as a communication tool.
Telegram has replaced Twitter as the main social media platform used by IS in recent months, largely due to a previous Anonymous campaign set up in response to the attacks on Charlie Hebdo earlier this year in Paris. #OpIsis resulted in more than 25,000 Twitter accounts associated with IS being shut down, causing a migration to the encrypted messaging platform Telegram.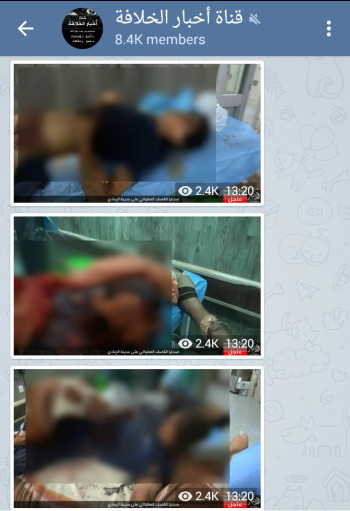 An update to Telegram in September meant that users could create public channels in order to share information and spread propaganda to an unlimited number of followers. The main Telegram channels of IS currently have more than 15,000 followers, while analysts estimate that the number of channels associated with the group has grown to more than 50.
"This trend has been discernible for some time, with notable expansion in Islamic State's use of Telegram occurring during the past six months," Michael Smith, an adviser to the US Congress and co-founder of national security firm Kronos Advisory, recently told IBTimes UK. "It should be noted that Islamic State is not the only terrorist group leveraging Telegram to engage with supporters and recruit new members on a global scale. Al-Qaeda has long utilised Telegram for everything from communications with journalists at major news organisations in the West to propaganda distribution."
While it is possible to track IS on Telegram, disrupting the group's communications is much more difficult compared to Twitter. Telegram is yet to respond to a request for comment from IBTimes UK, however the app's founder has previously stated his position on the importance to protect privacy, regardless of how the service might be being used.
"I think that privacy, ultimately, and our right for privacy is more important than our fear of bad things happening, like terrorism," Pavel Durov said in an interview with Tech Crunch. "Ultimately the Isis will always find a way to communicate within themselves. And if any means of communication turns out to be not secure for them, then they switch to another one. So I don't think we're actually taking part in this activities. I don't think we should feel guilty about this. I still think we're doing the right thing — protecting our users privacy."
Telegram's policy states that it only processes "legitimate requests" to take down illegal public content, such as sticker sets that violate intellectual property rights, or porn bots in the countries where pornography is illegal. It is not stated specifically whether its channels fit under this policy.