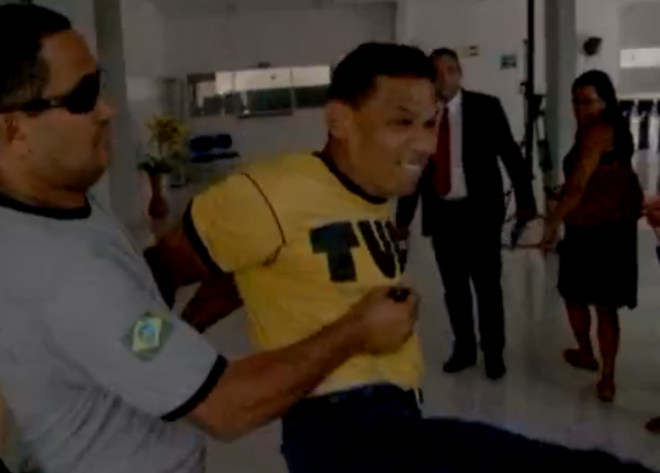 A Brazilian serial killer who sexually abused, murdered and mutilated dozens of children has been sentenced to more than a century in jail by a court in the northern state of Maranhao.
Francisco das Chagas Rodrigues de Brito, a 50-year-old bicycle mechanic, was found guilty of murdering three children in 1997. The verdict was passed at the last of 11 trials he has faced since his arrest 2004.
Eduardo Rocha da Silva, 10, Raimundo Nonato da Conceicao Filho, 11, and Edivam Pinto Lobato, 12, were found dead with their genitals severed in the municipality of Paco do Lumiar. One had also a finger cut off his hand.
Judge Jaqueline Reis Caracas sentenced Das Chagas to 108 years behind bars for the gruesome crimes, adding to the 277 years he was handed at previous trials.
The serial killer was wrestled away by police ahead of the final hearing, as he tried to attack photographers and kicked a female reporter as he was escorted inside the court.
Das Chagas allegedly killed a total of 42 children between 1991 and 2002 in the neighbouring northern states of Maranhao and Para.
Almost all of the murders followed the same scheme. He selected children from poor families and lured them to a remote area by promising them gifts.
He then sexually abused his victims - all aged between four and 15 - killed them and mutilated their bodies.
Police reportedly found human bones at his house when they raided the premises. He confessed to 16 murders but it was later established the number was much higher.