Brazil's overcrowded, underfunded prison system is notorious for riots and gang killings. However, in the Amazonian state of Rondônia, many prisoners convicted of murder, theft and other crimes are being offered a rare release from the violence, and a reason to improve their behaviour.
Acuda, a charity in the city of Porto Velho, trains prisoners in spiritual and physical healing practices including yoga and Ayurvedic massage, as well as in conventional vocational skills such as car mechanics and gardening. "It gives inmates something to look forward to and something they can use when they leave," said Adriano Furtunato, regional manager of the penal system for the state, located on the western fringe of the Amazon rainforest. The system has strict rules of conduct that must be met before inmates can take part, so the therapies also provide an incentive for prisoners to behave, he added.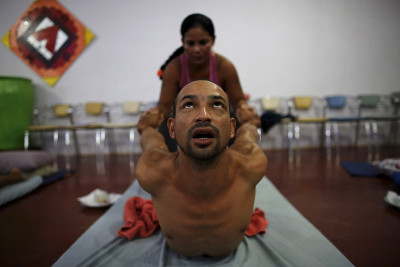 The charity, which has its headquarters within a prison complex, uses local volunteers to run its courses and over the years has trained more than 2,000 inmates. About 110 are currently taking part in the programme.
The therapies have one goal, says Luiz Carlos Marques, Acuda's founder: educating inmates about the possibilities of life beyond crime. "Nobody can force someone to stop breaking the law," he says. "It's something each person has to decide on their own." Prisoners in handcuffs are transported to the charity's headquarters where they take part in counselling sessions and activities such as ear candling therapy and pottery painting.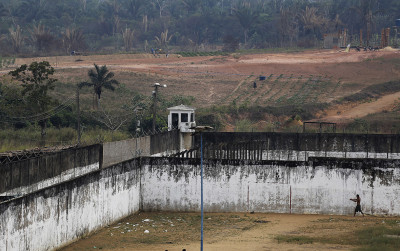 Reuters photographer Nacho Doce, who photographed some of the sessions, says the inmates' favourite seemed to be the clay therapy that is designed to improve skin health for the prisoners, who spend most of their hours in dank, dark cells.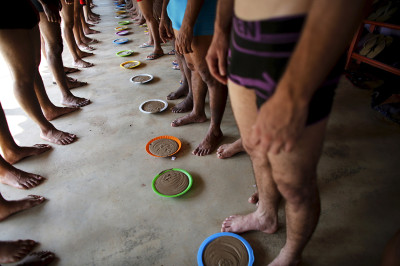 Family members join the detainees for a meal on the last Friday of each month. Some of the prisoners show their Ayurveda certificates to their mothers, then use their new skills to give them massages.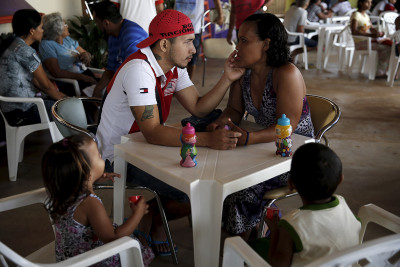 Sergio Luiz Brito Aponte, a 38-year-old inmate currently five years into a 30-year-sentence for murder and drug trafficking, told the photographer that the therapies offered by Acuda have helped him achieve much more than he ever did as a free man. "Today I am a mechanic, a sculptor, a masseur and other things," he says. "I didn't know how to do anything before, only wrong."