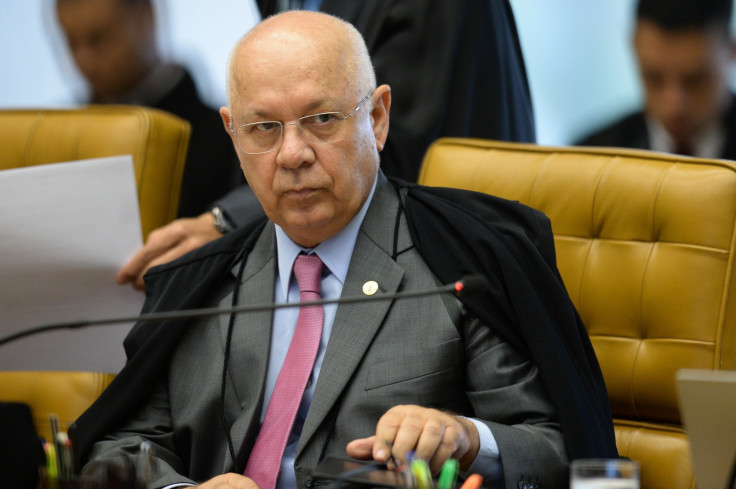 The Brazilian supreme court justice presiding over the country's biggest ever corruption scandal has died after a small plane he was travelling in crashed off the coast of Rio de Janeiro state.
Teori Zavascki was one of four people on board the Hawker Beechcraft twin-prop aircraft when it went down on Thursday (19 January) afternoon in the Paraty region of Brazil.
Boats swarmed around the crash site, but only three of the bodies have been recovered. Zavascki's son confirmed his father was one of the victims.
Local reports state heavy rain hit the region, but the timing of the death is likely to arouse suspicions of foul play.
Zavascki played a crucial role in Operation Car Wash, a judicial inquiry into a bribery and kickback scandal involving the state-controlled oil company Petrobras.
In recent days, the judge had been reviewing evidence from senior executives at Odebrecht, the Brazilian construction company, which could result in many more arrests of powerful figures in Congress and the business community.
Sergio Moro, the prosecutor who has led the Lava Jato investigation for nearly three years, said in a statement that he was "perplexed" by the death of Zavascki, who he described as a "Brazilian hero".
"Without him, there would be no Operation Car Wash," Moro wrote, according to Reuters.
"I hope that his legacy, of serenity, seriousness and firmness in enforcing the law, regardless of the interests of those involved, even the powerful, will not be forgotten."
Scores of businessmen and politicians – including the current and former presidents Michel Temer and Luiz Inácio Lula da Silva – are implicated in the scandal, which involves at least R$6.4bn (£1.62bn, $2.0 bn) in bribes.
Temer, who was reportedly astonished by the news, must now appoint a replacement for Zavascki.
Carlos Pereira, a professor of public administration at the Getulio Vargas Foundation in Rio de Janeiro and a leading expert on corruption, said Zavascki's death was a serious blow but he was confident it would not derail the graft investigation.
"The death of Teori is unquestionably a stress test for Brazilian institutions, but there is no question that President Temer will be under tremendous pressure to nominate a replacement who has absolutely no hint of wanting to slow or halt the Car Wash investigation," he told Reuters.
"If there is any sign that anyone would use Teori's death in an opportunistic manner to put up obstacles... I have no doubt they will be severely punished by many sectors of society."
Brazil's civil aviation authority ANAC is investigating the cause of the crash.