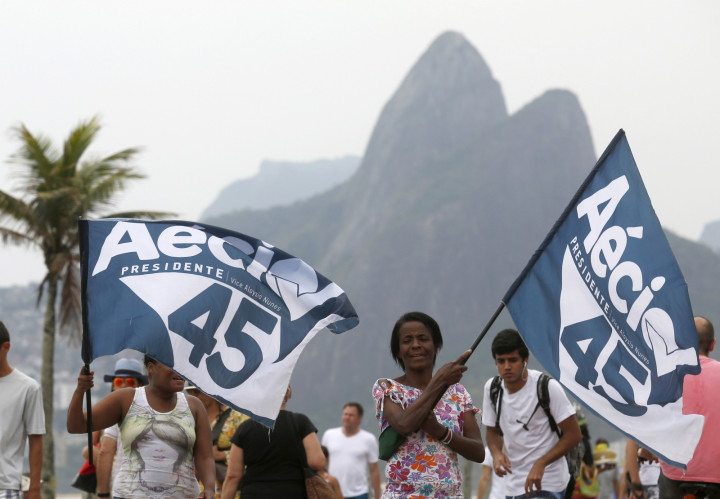 Leftist leader Dilma Rouseff and centrist Aecio Neves are locked in a neck and neck race as Brazilians are set to vote in the presidential run-off.
Though many polls put Rouseff of the Workers Party (PT) ahead of her rival, the result is considered too close to call.
According to Reuters, a survey by polling firm Ibope gave Rousseff a 6-percentage point lead over Neves. Another poll by Datafolha put Rousseff ahead by 4 points.
Both the candidates have vowed to revive Brazil's sagging economy. While Rouseff is widely seen as pro-poor, Neves wants to implement market-friendly economic policies.
Rouseff's social thrust to her programmes has helped lift millions out of poverty. Most poor Brazilians are seen as remaining loyal to Rouseff's PT while the richer ones support Neves.
"Brazilians want it all. They are worried about the economy being sluggish and stagnant but they want to preserve social gains that have been made. The question is which candidate is best equipped to deliver both of those," Michael Shifter, president of the Washington-based Inter-American Dialogue, told the Associated Press.
The last-minute campaign, marked by bitterness, was largely focused on tapping the undecided voters, who roughly make up to 10% of the electorate.
Ahead of polling, security has been beefed up in Rio de Janeiro and other cities.
"We had already planned an increase (in security) for the second round of elections. In the first round we had 15,000 officers in the streets and in this second round we will have 20,000 men," Coronel Cláudio Costa spokesperson for the Military Police, was quoted as saying by Agencia Brasil.
The final results are expected within hours after polling ends.