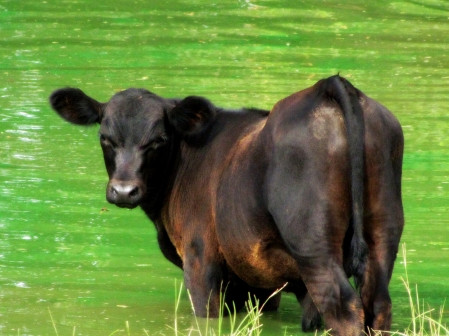 A man has been found guilty of trying to have sex with a cow and sheep while he was wearing only socks and shoes.
Paul Lovell, 61, was spotted by a couple allegedly trying to engage in intercourse with the sheep after failing to seduce a cow near the Tottenham Hotspur training ground in north London last September.
Jurors at Wood Green Crown Court, who had been told off earlier in the trial for sniggering at some of the details, found Lovell guilty of outraging public decency.
They had been told the IT worker was seen by a couple having a picnic. The couple saw him "laying on the floor, taking his shorts off" before committing the sex crimes.
When cows would not fellate him, the accused decided to "try his luck with some sheep", the court heard.
The judge later told off jury members for laughing at claims Mr Lovell was initially unsuccessful in his attempts at bovine conquest.
The reprimand came after a witness described how the cows wandered off into the next field, leaving Lovell to walk towards some sheep, holding a can of lager and a Sainsbury's bag with his clothes in.
Remarkably, when Lovell gave evidence he said he did not like being around animals much, even though the same witness said he had seen him thrusting his naked hips towards a cow's mouth and sheep's anus or vagina.
Prosecutors had already dropped a charge of indecent exposure due to a lack of evidence against Lovell, from Enfield, but prosecutor Robert Hutchinson changed the wording of a second charge of outraging public indecency to include "fellatio with a cow."
Lovell was released on bail and will be sentenced on 7 March.