Breitbart news has labelled the White House's ban on media outlets as "fake news" as the row between US President Donald Trump and the press intensified.
The far-right media organisation, linked with Trump's chief strategist Steve Bannon, was one of several outlets to be invited to a private briefing with press secretary Sean Spicer, while others such as CNN, the New York Times, the BBC and others were excluded.
Those excluded said the move was an unacceptable and unprecedented attack on the media, however Breitbart justified the move.
It listed numerous examples of how former President Barack Obama held private briefings with Liberal-leaning columnists and reporters during his time in office as evidence that the exclusion was nothing new.
"The New York Times' claim that 'nothing like this has ever happened' is simply false – or 'fake news'," the outlet said.
However, Obama was also said to did meet with right-leaning columnists too and organisations were never explicitly excluded from briefings by name.
Those that attended the briefing on Friday (24 February) with Spicer in addition to Breitbart included Fox News, ABC, Bloomberg, Reuters and the Washington Times. Time and the Associated Press were invited but declined to attend in protest of the ban.
The One America News Network was also in attendance and reported that Spicer used the meeting to try and debunk a New York Times story that was later run by several of the other barred organisations.
On Thursday, the New York Times reported that White House officials asked the FBI to debunk allegations that Trump's inner circle contacted Russian intelligence officials during the presidential campaign.
The FBI declined to publicly knock down the story, prompting new attacks from Trump directed at the organisation and the media.
In a series of tweets, Trump said: "The FBI is totally unable to stop the national security 'leakers' that have permeated our government for a long time. They can't even find the leakers within the FBI itself.
"Classified information is being given to media that could have a devastating effect on [the] US. FIND NOW."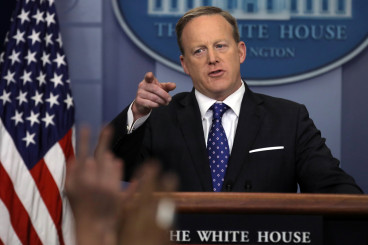 According to the One America News Network, Spicer's comments at the private briefing condemned reporting of the FBI affair, and viewed it as "offensive" adding that "the administration has nothing to hide".
When asked what the White House planned to do to tackle what it perceived as inaccurate reporting – moving forward – Spicer said: "We will continue to push back against these fake reports," but that he does not intend on removing credentials from the outlets.
Spicer reportedly added that the private press briefings are set to continue.