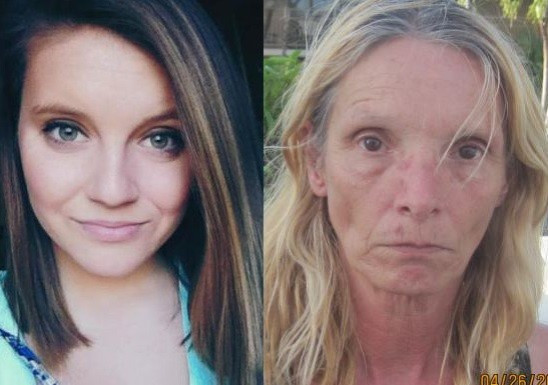 A Pennsylvania woman who came back from the dead after vanishing 11 years ago has been snubbed by her family.
Morgan Heist, the daughter of Brenda Heist, who was declared dead in 2002, lashed out in an online rant and said she does not want to have anything to do with her estranged mother.
The 19-year-old freshman at a community college outside Philadelphia said she was she still trying to understand how her mother could have abandoned her and her brother, Lee.
Heist, a former accounts clerk, went missing without trace after dropping off her daughter and son, then eight and 12 respectively, at school.
Her spur-of-the-moment decision to join a group of homeless hitchhikers on their way to Florida prompted a murder investigation and nationwide hunt. She was eventually declared dead by a court in 2010.
Shortly after discovering that her mother was still alive, Morgan shared her joy of her new with her followers writing: "I'm praying so hard that this is the answer I have been waiting for for 11 years."
But as details of her mother's disappearance and whereabouts for the last decade emerged, her happiness quickly turned to rage.
The following day the avid tweeter wrote: "This doesn't seem real. I feel like I'm in my own horrible nightmare and can't wake up."
She also revealed her relief that her father, Lee Heist, would finally be exonerated of any blame or suspicion about his wife's disappearance. He has since remarried.
"To every person who ever questioned my dad's place in my mom's disappearance, take that."
In the string of messages that followed she voiced her reluctance to build bridges with Heist after she had spent years mourning a woman who was alive.
"Tomorrow will be the day I will hopefully finally get closure in my life. I need the truth more than anything," she wrote.
"My brother and I don't want contact with her as of now. "You were finally becoming less and less of a memory. Now? You're a horrible nightmare.
"I think I would never want to talk to a woman like you. I can't believe I wanted to see you. F*** you 'mother'."
Heist, who disclosed her identity to police in South Florida in April, said she slept under bridges and scavenged food from restaurant rubbish bins to survive.
She has been released from police custody and is said to be staying with a brother in northern Florida.