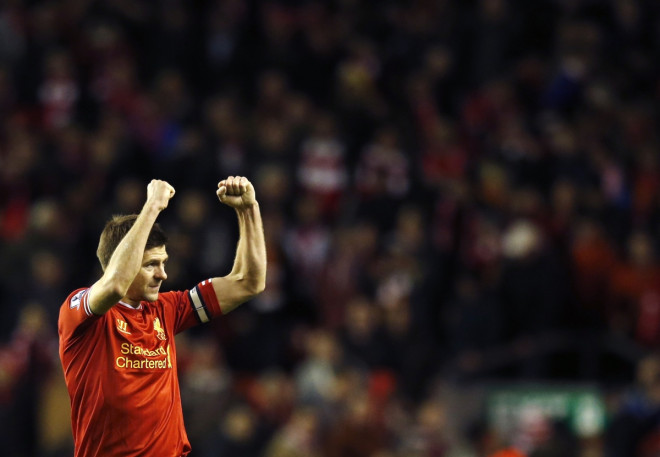 Brendan Rodgers has confirmed Liverpool will hand their skipper Steven Gerrard a new contract at the end of the season.
The England international will have one year left on his contract in the summer and will turn 34 at the end of this month. The Northern Irishman has expressed his desire for the Reds midfielder to continue beyond 2015.
Gerrard has been instrumental in Liverpool's impressive form in the league this campaign. His brilliant run has seen him being listed in the PFA Team of the Year. Rodgers believes the Reds star player still has a few more years of top flight football left in him and is eyeing to hand him a contract extension in the summer.
"Steven will be one we look to get a contract to in the summer. With a year to go, it's something we will address. I believe Steven will play beyond 2015. He is a player who has really shown his qualities this season," Rodgers told the Liverpool Echo.
"Come the summer, he will still only be 34. Looking towards the future, I still think he's going to be a key part of our squad. He has dropped into a new position and played it seamlessly. His intelligence in the game is second to none. He is improving all the time."
"It's one where he has been brilliant for me as a captain and as a player this season and I would like that to continue. Most clubs, especially bigger clubs, recognise now that once a player gets over a certain age you have to look at a contract's duration."
"But for me Steven still has so much to offer and I really want him beside me here working on the field," the former Swansea boss said.
Liverpool's title hopes suffered a blow after they suffered a 2-0 defeat to Chelsea at Anfield in their last league fixture. Gerrard's slip helped Demba Ba opened the scoring for the Blues before Willian's late goal sealed three points for the visitors.
Rodgers insists the England midfielder is not to be blamed for his mistake against the west London club.
"Everyone had empathy for Steven. The mistake obviously changed the course of the game and he was just unfortunate," Rodgers said.
"There is no blame attached to him because he has been instrumental in where we are to this day and he will continue to be in the coming years."