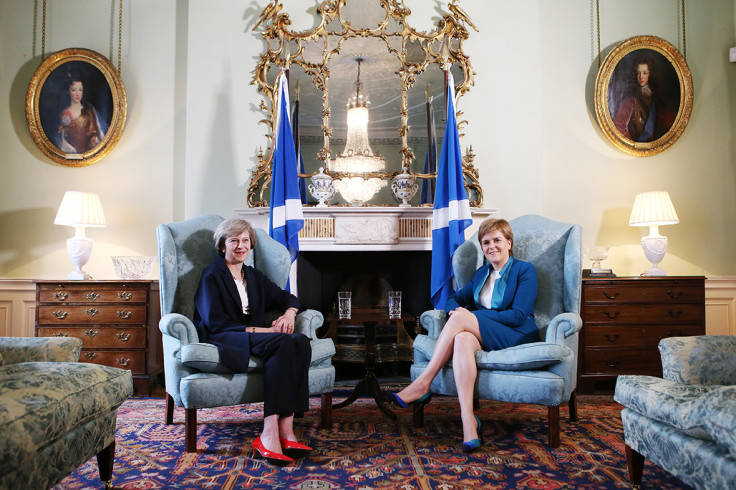 Despite heavy commitments on both foreign and domestic fronts, Prime Minister Theresa May kept her promise to make Scotland her first destination after attaining office and made a flying visit in order to meet Scotland's First Minister, Nicola Sturgeon, on 15 July at the latter's Bute House residence in Edinburgh's New Town.
The Prime Minister, who has made it very plain that there will be no further referendum on European Union (EU) membership after the UK voted 52 per cent to 48 per cent to leave, wanted to make her stance very clear. "Brexit means Brexit", is her now renowned and adamant catch phrase on the subject. Scotland, as far as the PM is concerned, will just have to live with that; it's leaving too.
Mrs May also had another message for her Scottish counterpart:
"This visit to Scotland is my first as Prime Minister and I'm coming here to show my commitment to preserving this special union that has endured for centuries."
Not maybe quite so well known, the mistress of her own patch of the UK and which she would like to see becoming independent in the not too distant future, Ms Sturgeon insists that "Remain means Remain" in the EU, for Scotland voted thus by 62 per cent to 38 per cent; in electoral terms, that makes it by a "landslide".
Immediately after the Referendum results were known, the First Minister announced that Scotland's position was "unequivocal" and that it was "democratically unacceptable" for the country to be forced out of the EU and the next day set up an advisory panel of financial, legal and diplomatic experts in order to "protect Scotland's relationship with the EU and our place in the single market".
Both ladies after last Friday's meeting could come away with honours even and expressed a willingness to listen to respective proposals.
In an interesting twist, one lady not in the frame so much and possibly overlooked, was Kezia Dugdale. The leader of Scottish Labour has moved her Party's total opposition to independence and a second independence referendum, to "consider all options" so as "to do the best thing for Scotland and the interests of working people within it".
Wow!
It's hard to believe that we are in this situation because our former PM, David Cameron, won an overall majority in last year's general election and felt obliged to make good his promise for a referendum on our membership of the EU. When he announced it back in January 2013, roughly 75% of MPs backed remain and there was a substantial cohort of Lib Dems in the Coalition Government to counter his block of EU rebels, but there were warnings aplenty.
BBC Political Editor James Landale, on the day Mr Cameron made his pledge, cautioned that "the Pro-European camp is much smaller than it used to be". The PM would have been wise to stipulate that a clear majority of the electorate had to vote for Leave – this had been done before in Scotland.
The Remain camp, especially in England and at Westminster, seems to have all but evaporated. No doubt this is due to the determined and forthright stance the new PM has taken but there is also the fact that Labour in the House of Commons has ceased to be an effective Opposition and a large majority of the Parliamentary supported Remain.
Under Jeremy Corbyn, who (all too) swiftly accepted Brexit, Labour has declined from a party seeking and able to take power to one of simply protest without responsibility and under a man who gives the impression of never wanting to be Prime Minister.
Not just in Scotland is it said that the real leader of the Opposition is Nicola Sturgeon – and she's not an MP.
Brexit has highlighted a real and maybe widening divide between Scotland and England in a way that the Referendum on Scottish Independence did not. Not least is the fact that UKIP has virtually no influence North of the Border, even under Scotland's proportional voting system, the party failed to get an MSP from the Regional List vote into Holyrood. In the EU campaign, UKIP's Syrian refugee poster was deemed to be beyond the pale.
The Herald on 25 June published a pull-out on the Referendum titled "The Great Divide". My voting area was 61:39 for Remain, very close to the Scottish average and the "worst" area was Moray, 50.1 Remain, 49.9 Leave – needn't expect too much inward investment there then.
If the towns and cities of Northern England feel hard done by and voted to Leave – in North East, Leave got over 58 per cent – Glasgow, which has lots of problems due to deindustrialisation, voted by over 66 per cent to Remain.
And one has to feel sorry for Edinburgh, a city with a diverse population and not a hotbed of Scottish Nationalism – Remain: 74.44 per cent.
Broadcaster and journalist Lesley Riddoch in The Scotsman on 18 July, writes:
"...the ramifications of Brexit continue to quietly unfold. It's increasingly apparent that Scots face a choice between two families of nations and must soon take a long-term decision about which one feels like home".
The same paper noted that Holyrood is looking into a new Scottish currency in the event of independence.
It goes without saying that Mrs May was calling Ms Sturgeon's bluff on that lightning visit and it has to be said, won. Only for now, mind.