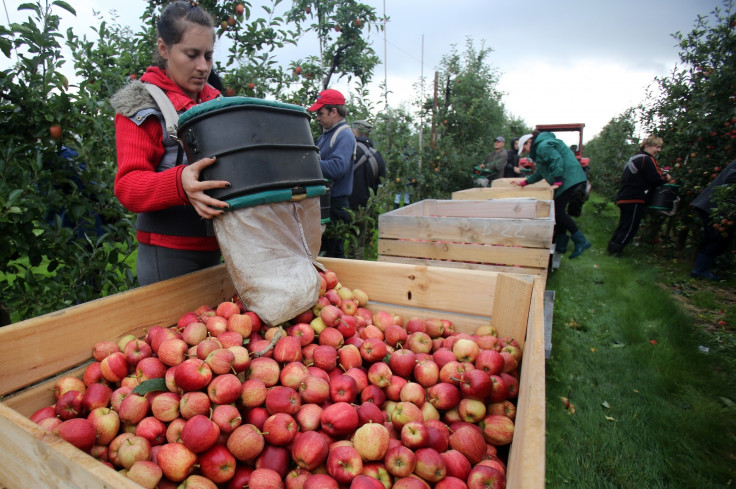 Low-skilled workers will not be restricted from working in the UK in the short term because Britons will not be ready to fill their jobs for a long time, the Brexit secretary David Davis has said.
In a speech in the Estonian capital of Tallinn, Davis denied that sudden restrictions on low-skilled migrants in areas such as the hospitality sector would be introduced after Brexit.
"It will be years and years before we get British citizens to do those jobs. Don't expect the door will suddenly shut. It won't," he said, The Times reported.
Each summer, around 75,000 seasonal workers mostly from eastern Europe pick fruit and vegetables in the UK. The farmers union the NFU warned that unless thousands of workers from outside the bloc are allowed to work in Britain post-Brexit, crops would rot in the fields.
But senior conservatives have reacted negatively to Davis's comments, unhappy at the prospect that such a policy would make it difficult for the prime minister Theresa May to reduce immigration to tens of thousands. Iain Duncan Smith said he wanted the government to reduce migration numbers more quickly than Davis predicted.
Financial stability endangered
Separately, business leaders have told the Guardian that British and European financial stability was endangered by the potential loss of banking jobs from the UK to the continent.
HSBC will shift 1,000 jobs from London to Paris over two years with concerns that others could follow suit, although bankers say that much would depend on the Brexit deal the British government agrees with the EU and would most likely require a transition period.
A senior banker told the Guardian: "The point of no return is probably nine to 12 months away. The only thing we might know by then is whether an implementation phase is possible, but I am very sceptical they can deliver on it so we will go past the point of no return."
However, the Bank of England's chief economist said that leaving the single market and customs union would not have an impact on short-term growth.
Andy Haldane told the Treasury select committee on Tuesday (21 February) that so-called hard Brexit "would not have a material bearing" on the economic outlook over the next three years.
"When we played through the impact that would have on our forecasts, the impact was relatively modest," he said.