American Red Cross apologises for 'racist' swimming pool safety poster
All the children labelled 'cool' in the offensive poster were white.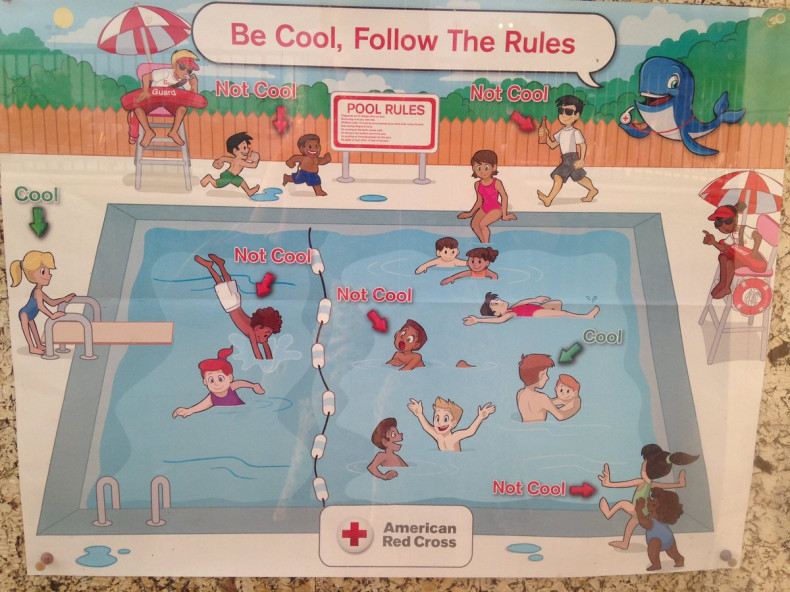 The American Red Cross has issued an apology and stopped producing its posters on safe swimming pool rules after the signs were blasted as "racist", according to reports on Monday (27 June).
The posters were designed to teach kids — and parents — safe swimming pool behaviour and include warnings on dangerous activities like running and pushing others into the water.
The illustration, entitled Be Cool, Follow the Rules, included arrows pointing out children following the rules and labelled "cool," and other children breaking the rules and branded "uncool." All of the "cool" kids were white and most of the "uncool" kids were black.
The "not cool" actions include a black girl pushing another girl into the water, a black boy diving into the water and another black boy gasping for air.
Margaret Sawyer, a former executive director of the Mixteco/Indigena Community Organising Project, which aids the indigenous community in Ventura County, California, said she first saw the poster at a pool in Salida, Colorado.
"I thought, 'It must be really outdated. This can't possibly be a recent poster,'" she told the Austin American-Statesman. But she then saw the same poster at a pool in another Colorado town.
"Staff at both of these city pools had never noticed anything wrong with this poster," Sawyer wrote on Facebook. It's "horrifying that children across the country are absorbing this message."
After Sawyer's complaints, plus several angry tweets and phone calls, the agency decided to pull the signs."We deeply apologise for any misunderstanding, as it was absolutely not our intent to offend anyone," the Red Cross said in a statement. "Going forward, we are developing more appropriate materials that are more representative of our workforce and the communities we serve."
"We're committed to diversity and inclusion in everything that we do," said Red Cross spokesman, William Fortune.
The organisation said it is "currently in the process of completing a formal agreement with a diversity advocacy organisation for (its) guidance moving forward," reported the Washington Post.