David Cameron will try to brandish Britain's post-Brexit defence credentials when he announces that 650 UK troops will be deployed in eastern Europe to reinforce Nato's border with Russia, in a move that is certain to irk Moscow.
Cameron will outline to the Nato summit that kicks off in Warsaw on Friday (8 July) how the UK will have a "three-pronged" commitment to the alliance whereby 500 British soldiers will be sent to Estonia, 150 to Poland and 3,000 placed on call as part of a rapid-response unit.
He will try to make assurances that the UK is still committed to the alliance after the EU referendum.
A government source said Cameron's message during the Nato summit will be: "It's a combination of defence and dialogue. We can't close the door on Russia - we have to engage in dialogue with them.
"But Russia must be in no doubt that the Nato forces are lined up in Europe and we stand shoulder-to-shoulder with each other," The Telegraph reported.
There are concerns that after Russia's annexation of Crimea, it will seek to destabilise other parts of eastern Europe such as in the Baltic States.
Cameron's announcement comes amid concern that Germany and France are seeking to build a European army rather than focusing their military resources on Nato.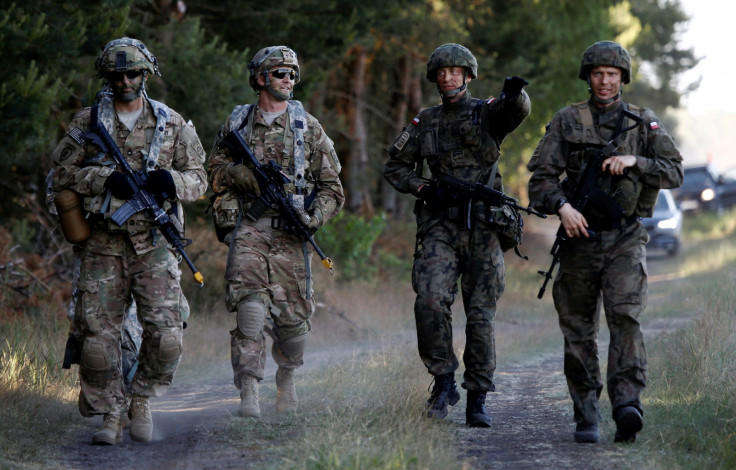 In 2017, the UK will take over the leadership of the Nato Very High Readiness Joint Task (VJTF) with 3,000 troops based in the UK and Germany on standby to move within five days' notice.
In Warsaw, Cameron will meet US President Barack Obama as well as other leaders during two days of talks in the Polish capital as they focus on Britain's relationship with its international allies following the Brexit vote.