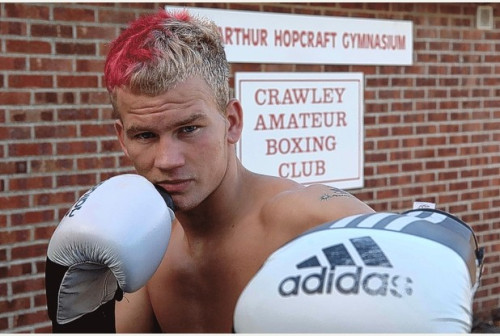 When boxer Robin Deakin takes on Anthony Crolla in a professional boxing match in March, he will not only be fighting to claim the light welterweight Commonwealth title but to shake off another more dubious tag – that of Britain's worst boxer.
After a promising amateur career 'Rockin' Robin Deakin, 27, won his first professional fight in 2006 but has since been on a 49-match losing streak, including 12 knockouts. His UK boxing licence has been withdrawn because of his terrible record and he is now facing the greatest fight of his life – to save his career and get his life back on track after a string of humiliating defeats.
But thanks to media coverage Deakin, from Tilbury in Essex, has become an unlikely hero and received support from boxing fans all over the country, a Twitter following and sponsorship by The Sun newspaper. He has had a German boxing licence issued so that he can carry on fighting and finally achieve another win – and he has his eyes on a belt in the fight in March.
In a frank interview for Pro Boxing Scotland, Deakin - who was born premature and with a club foot, and took up boxing to bulk up and protect himself from school bullies - says boxing has been his "lifesaver". Yet despite his unsuccessful and mismanaged career, he has no plans to retire.
"I've been a human punch bag. I'd love a title. I'll probably never get one, but I feel like I deserve it. My record doesn't reflect my abilities really. There have been several times where I think I should have won on points, or got a knockout, and the decision has gone the other way.
"I think people expect me to lose now - but you can bet that I try my best to win every single time I step in the ring. Despite my record boxing is all I know, all I live for.
"When fights have been set up for me, they haven't always had my best interests at heart - I've been paying people's mortgages and it's cost me my licence. You look at boxers like Amir Khan and they have one big fight a year, at one point I had 19 fights in 24 weeks."
Deakin had his licence taken away in August by the British Boxing Board of Control. "I am now £3,000 in debt, I've lost my house, I'm sleeping on my mum's sofa. She lives in a two-bedroom flat with my brother. The board just haven't taken away my licence, they have taken away my life and my dignity. I lost my job because I had to take a day off to go to the board meeting, I was told by the board if I didn't attend the meeting I would lose my licence. My world has collapsed all around me; all I want to do is get my licence back."
Incredibly, Deakin's record is not the worst of all time. British Welterweight Peter Buckley lost 256 fights and light welterweight boxer Johnny Greaves has lost 91 fights.
What are the health risks of boxing?
Eye injuries
Memory loss
Concussion
Loss of conciousness
Eye injuries
Neck injuries
Broken nose, jaw, fingers
Brain damage
Coma
Death