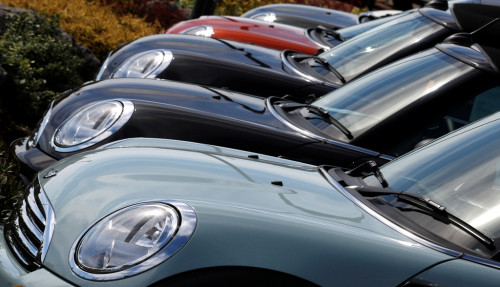 New car sales in the UK shot up by about 11% in 2013 to strike a five year high, industry data showed on 7 January.
2013 was the best year for British car sales since 2007, according tothe Society of Motor Manufacturers and Traders (SMMT), as affordable credit and rising consumer spending helped drive the demand for new vehicles.
Over 2.26 million new cars were sold in 2013, beating SMMT's prediction for the year by around 10,000 new cars. On average, 600 additional cars were registered each day in 2013, compared to the preceding year.
A sizeable number of British consumers purchased smaller vehicles last year. Around 35.9% of new cars sold were classed as superminis.
In addition, the demand for eco-friendly cars also shot up with registrations of hybrid and plug-in cars rising 17.5% to 32,727 units.
The top three best-selling cars were the Ford Fiesta, the Ford Focus and the Vauxhall Corsa.
SMMT said it expected about a 1% growth in sales in 2014.
Mike Hawes, SMMT Chief Executive said: "With its best year since a pre-recession 2007, the UK new car market has helped stimulate the country's economic recovery."
"While the European market is only now showing signs of improvement, the UK has consistently outperformed the rest of Europe with 22 consecutive months of growth.
"The 10.8% increase in 2013 reflects the attractive financial offers available as well as increased demand for more technologically advanced new cars. We expect new car registrations to remain stable in 2014 as customers return to a more regular replacement cycle," Hawes added.
EU Sales
The UK was a key market in an otherwise subdued European economic marketplace. In 2013, the nation consolidated its position as the second largest car sales market in Europe, after Germany.
By comparison, car sales in the rest of Europe have dropped in recent years.
SMMT data to November 2013 showed the British market was up 9.9%, or over 190,000 units. The 27-member EU block as whole was down 2.7% or over 300,000 units.
Sales across the EU region fell to 11.4 million cars in the 11 months to November 2013 and the industry was on track to log its sixth consecutive annual decline.
Full-year EU sales in 2012 dropped 7.8% from the previous year to 12.5 million, European Automobile Manufacturers' Association data showed.