The heightened uncertainty post-Brexit has sparked a petition signed by thousands of people calling for expat Britons living in Spain to get the right to apply for dual citizenship. The EU referendum result on 23 June raised concerns among the estimated 380,000 British expats in Spain about whether they could stay.
The expat newspaper the Olive Press, which is based in San Luis de Sabinillas, Andalucia, ran its first splash in Spanish for more than 10 years this week asking Spaniards to join British expats' demand for dual nationality.
Spaniards living in the UK for five years are eligible for British nationality, but that is not reciprocated.
Around 17,000 people have signed a petition calling for Spanish citizenship to be given to those who have lived in Spain for more than 10 years.
Joe Duggan, from the Olive Press told IBTimes UK:"Most people are worried, some are trying to put a brave face on it and that it may be put down to scare mongering, but we don't know what is going to happen. Theresa May did not give very encouraging comments and people are very worried."
John Rockett, who is the proprietor of the Penguin Bar, in Puerto de la Duquesa, about 27 miles (45km) west of Marbella on the southern coast, said that Brexit has been a hot topic of discussion among his mainly ex-pat clientele.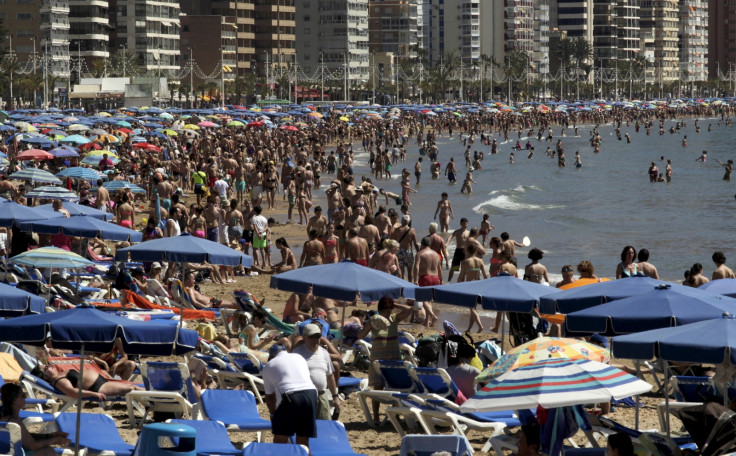 "There is uncertainty, people don't know what is going on. They are worried about the sterling dropping and I'm hearing that estate agents are getting fewer sales from England. In particular they are worried about what will happen to their healthcare, and whether they will be still eligible for it," he told IBTimes UK.
UK citizens living in other EU member states can get free emergency healthcare via the European health insurance card (EHIC). But Spain is not obliged to keep offering this to Britons once the UK triggers Article 50, which trade secretary Liam Fox wants to do by the end of 2016.
The Department of Health says expats' access to the EHIC would need to be resolved during negotiations suggesting that UK citizens retired overseas no longer having access to healthcare guaranteed by the UK government.
So far, post-Brexit, there has been little change in the number of people sitting the Spanish language and comprehension tests required before they start the path to Spanish citizenship. Prospective Spanish citizens need to have obtained a minimum language level by passing a test known as the Diploma of Spanish as a Foreign Language or DELE. They also need to pass a new exam called the Constitutional and Socio-cultural Knowledge Spain (CCSE) test.
According to the Cervantes Institute, in September this year, 47 Britons will take the test, with four more registering after the Brexit vote; in October there will be 25, also up four from pre-Brexit and a small increase in people doing the test in November, from five pre-Brexit to seven post Brexit.
Allowing dual nationality for those who have lived a long time in Spain would require a change in Spanish legislation, but there has been a precedent with the interim government of Mariano Rajoy offering double nationality to Sephardic Jews, who are descendants of Jews expelled from Spain in 1492.
Rajoy has insisted the rights of British expats will be protected while the Government negotiates its future, saying: "The rights to move freely, to work, pay taxes and get pensions, to invest and vote will not be affected at least during the next two years."
New Brexit minister David Davis has sought to ease the fears of expats saying that their status in the EU will be of the utmost importance during negotiations. "We will get a generous settlement for EU migrants here now and a generous settlement for British citizens in the EU," he said.