A 66-year-old British man and his 5-year-old granddaughter have drowned on Salgado Beach in Portugal, 60 miles north of the capital Lisbon.
The tragedy occurred at 14:00 local time when the two holidaymakers, named by local police as Brian O'Dwyer and Lara Lewis, were taking a stroll along the beach in the tourist resort of Nazare.
Lara's grandmother, Jill O'Dwyer, was also walking with the two victims when strong waves broke over them, dragging them beneath the water and took them out to sea.
Having heard people thrashing in the water, local fishermen raced to the scene and dragged the three holidaymakers from the waves. Although they were able to resuscitate Jill O'Dwyer, her husband and granddaughter could not be revived.
"The grandfather was already dead when he was hauled from the water. Emergency services attempted to resuscitate the child, but to no avail," Antonio Jose de Albuquerque, head of Nazare port, told The Portugal News.
"The two victims, accompanied by the grandmother, went on a stroll away from the Salgado beach, which is under lifeguard surveillance, and it must have been during this period that they were knocked over and dragged in by the waves".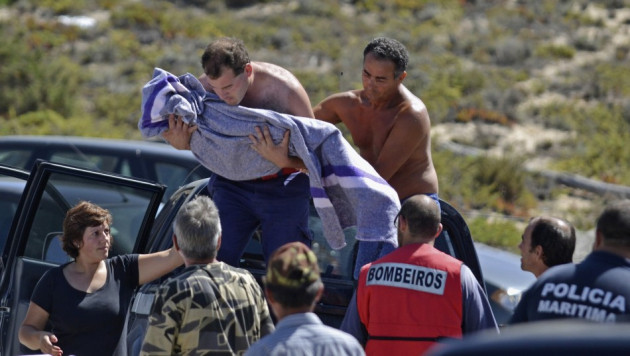 It is reported that the girl's parents Philip and Sian Lewis, of Hackney, north London, were on the beach as part of the family party and are now being treated for shock.
Officials have yet to release any further details about the incident or the names of the victims. However the British Foreign Office has contacted the Portuguese authorities to verify the identities of the deceased.
Salgado beach, famous for its large waves, is frequented by surfers. It is thought that the waves reached 9ft around the time the tragedy occurred.