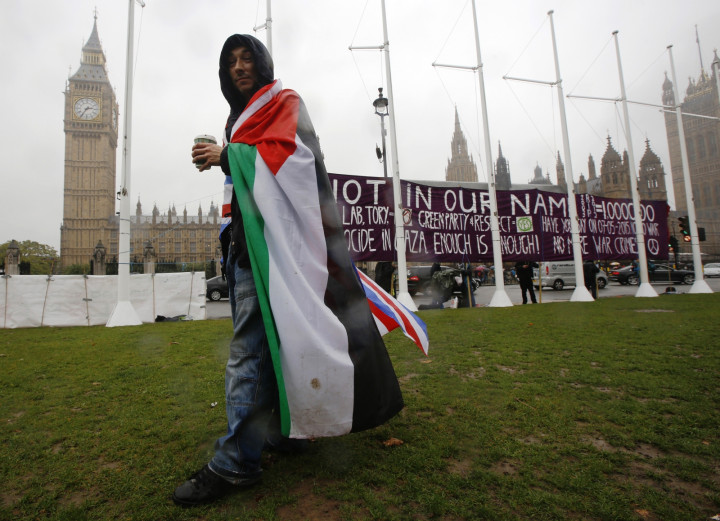 British MPs have started debating a symbolic motion on whether to recognise the Palestinian state.
In his opening remarks, Labour MP Grahame Morris, who tabled the backbench Commons motion, said Palestinian statehood recognition "is not an Israeli bargaining chip, it is a Palestinian right". The Labour MP told his peers they have a "historic opportunity to take a small but symbolically important step" by voting in favour of the motion.
Morris said a vote in favour of the statehood will send a message that the UK regards both Palestinians and Israelis "as equal in dignity and in rights; not just in death, but in life too".
In his response, Sir Richard Ottaway, the foreign affairs committee chair, said he had been a friend of Israel before he became a Conservative MP but revealed he would not be opposing the motion.
Earlier, British PM David Cameron said he was to abstain in the vote.
The vote, which is non-binding for the British government, carries a huge symbolic meaning and is seen as a reaction to the seven-week Gaza conflict in which 2,100 Palestinians, mostly civilians, and 73 Israelis, mostly military, were killed.
Britain's current policy towards the issue is that it "reserves the right to recognise a Palestinian state bilaterally at the moment of our choosing and when it can best help bring about peace".
Palestine has been recognised as a state by 135 out of UN's 193 member states, most recently by Sweden, which became the first major EU member to do so.
The UN general assembly recognised in 2012 Palestine as a non-member observer state, paving the way to a wider official recognition from European states. It also required an immediate stop to settlement construction in the West Bank and east Jerusalem.
The vote occurs as UN secretary-general Ban Ki-moon urged Israel to scrap plans to expand settlements in East Jerusalem. Earlier in October, Israel gave the final approval for the construction of 2,600 houses in Givat Hamatos, a Jewish neighbourhood in occupied East Jerusalem.
Israeli non-governmental organisation Peace Now called the construction plan "destructive to the two-state solution" because the housing units would divide the Palestinian state and block the possibility to connect the Palestinian neighbourhoods in south Jerusalem with future Palestinian state.
Ban claimed the plans were a "clear violation" of international law. He said: "This does not send the right signals and I urge the government of Israel to reverse these activities."