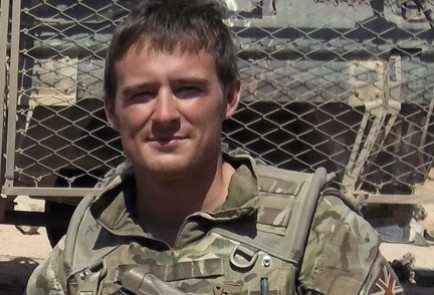 The British soldier killed by enemy fire while on patrol in Afghanistan has been named as L/Cpl James Brynin, of the Intelligence Corps.
Brynin, 22, of the 14th Signal Regiment (Electronic Warfare), was shot when his patrol came under fire in Kakaran in the Helmand province.
Despite receiving immediate medical attention, Brynin, from Shoreham-by-Sea, West Sussex, died at the scene, the Ministry of Defence confirmed.
Working as an intelligence analyst, he had already been selected for promotion to corporal by the army after excelling since he joined the army in February 2011.
After his initial training he was posted to 14th Signal Regiment (Electronic Warfare) and had already served a tour in Afghanistan in 2012. He then volunteered to train with the Brigade Reconnaissance Force and was deployed back to Afghanistan in August 2013.
His death brings the total number of British personnel who have died in Afghanistan in 2001 to 445.
Brynin's death is the first British soldier to be killed in Afghanistan since Cpl William Savage, Fusilier Samuel Flint and Pte Robert Hetherington were killed in April.
Tributes have now been paid to Brynin, who his family describe as having a "heart of an lion".
Lt Col Mark Purves, commanding officer of the 14th Signal Regiment (Electronic Warfare), said: "Bright and engaging, Lance Corporal Brynin was immensely popular and an outstanding soldier in every respect.
"Having already completed one tour to Afghanistan, his appointment to support the Brigade Reconnaissance Force was indicative of his talent and leadership qualities. He was fit, determined and genuinely wanted to make a difference."
Lt Col Richard Slack MBE, commanding officer of the 9th/12th Royal Lancers, the Brigade Reconnaissance Regiment, said: "Lance Corporal Brynin was a star, burning bright and rising fast. From the moment he joined the Brigade Reconnaissance Force it was clear that we were blessed with a truly special individual. His loss is one of the real tragedies of this military campaign.
"He stood out due to his professionalism, his determination, and his razor-sharp intelligence. He touched everyone with his zest for life and sense of humour. But above all he will be remembered for his extraordinary courage: when it mattered he stood up, and was counted. Our thoughts and prayers are with his family, and his girlfriend Olivia."
The secretary of state for defence, Philip Hammond, said he was "saddened" to hear about Brynin's death.
He added: "His colleagues and commanders have spoken warmly about his outstanding professionalism and selflessness. It is clear that he was a man of determination, ambition and high achievement."