British troops are to resume training Syrian moderate opposition forces. Defence Secretary Sir Michael Fallon, on Tuesday (25 October), will announce that the troops will start working with moderate opposition forces in infantry, medical and explosive hazard awareness skills as a part of the campaign against the Islamic State (Isis).
Fallon said that at least 20 soldiers will be deployed in the area "to provide vetted members of the moderate Syrian opposition with the skills they need to continue to take the fight to Islamic State".
The decision to train moderates comes after a request from the Pentagon, the Independent reported. In November 2015, a mission alongside the Americans in Jordan ended after trained fighters surrendered to Jabhat al-Nusra, an extremist organisation affiliated to al-Qaeda, now called Jabhat Fateh al-Sham.
It also comes in the backdrop of Iraqi and Kurdish fighters launching a massive offensive to retake Mosul from the IS (Daesh) in Iraq. If it ends in defeat for the IS, Syria's Raqqa would be the next big challenge.
The new team will be likely based in al-Quweira in south-western Jordan in camps built last year. They will work with the New Syrian Army (NSA) that has been formed with defectors from the Syrian regime's army forces. SAS units, who have been on the ground along with the NSA forces, are believed to have played a role in selecting recruits for the new programme.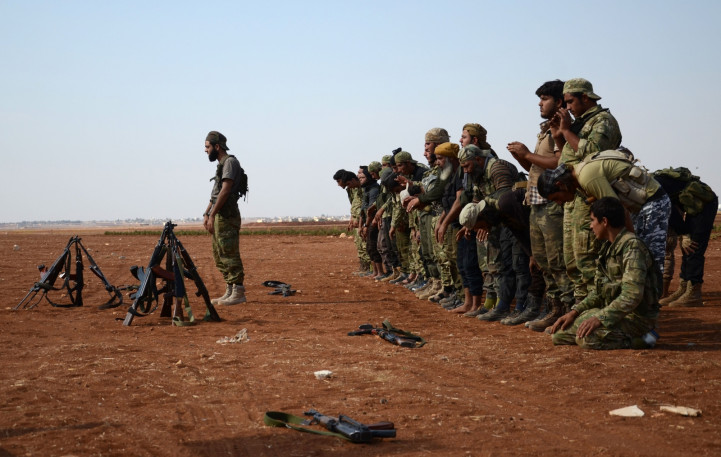 The US restarted its train and equip programme in the summer. President Obama has reportedly been reluctant to send more help, including arming moderates in Aleppo because he fears they have become more extremist in their outlook.
However, the Ministry of Defence in London stresses that moderate fighters do exist in north-western Syria and says not all of them are extremists.
Sir Fallon insisted that "all volunteers from the moderate opposition will be subjected to strict vetting procedures and will receive training in International Humanitarian Law. Trainees will be security and medically screened prior to the start of the training and will be assessed during and monitored after the training."
He further elaborated saying, "Daesh are on the back foot. Now we're stepping up our support to moderate opposition forces in Syria, through training them in the skills they need to defeat Daesh.
"As Iraqi and Kurdish forces close in on Mosul, the UK supported training will help cement recent progress in north-west Syria, underlining the pressure Daesh is now under on all fronts."