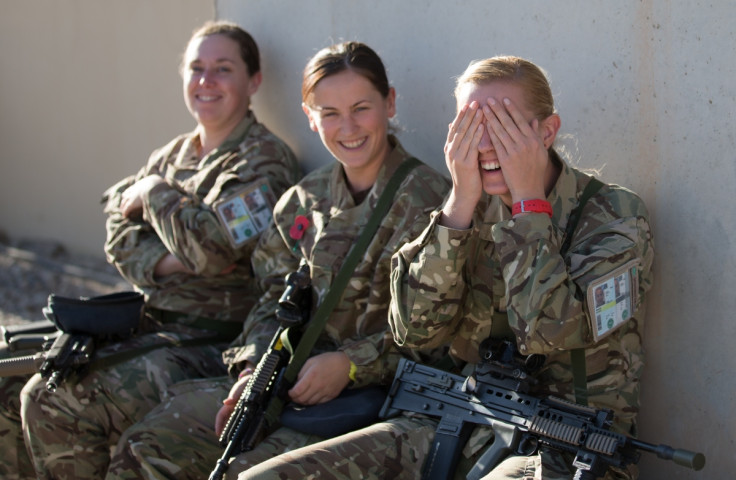 Women soldiers in the British Army will be allowed to fight in close combat roles within months after a radical overhaul of the military's rules. Prime Minister David Cameron wants the UK to follow nations such as the US and Australia in putting women into "ground combat" roles.
The review of armed forces policy could mean that female soldiers will be posted to the front lines of warzones by the end of 2016. Currently more than 80% of jobs are available to women within the armed forces – including posts in war zones with the RAF and Royal Navy – but the proposed changes would open up roles in the units such as the Royal Marines, Royal Armoured Corps and the Royal Air Force Regiment to women.
The reforms could lead to women being sent to fight Islamic State (Isis) militants on the ground in Iraq or Syria, if the UK government decides to send ground troops to fight in the conflict. Currently the UK is carrying out airstrikes above the two nations and helping to train local military forces.
Research is currently being conducted into the physiological demands of combat on women with results expected to published in an initial report in the middle of next year, following previous research conducted signified women were able to cope with the rigours of close combat. Many frontline roles were opened to women 20 years ago in artillery, engineering and for combat medics.
Women in combat
The prime minister said according to the Telegraph: "The Defence Secretary Michael Fallon and I are united in wanting to see all roles in our Armed Forces opened up to women in 2016. We've already lifted a number of barriers in our Armed Forces with the introduction of female submariners and women reaching the highest ranks in all services. We should finish the job next year and open up ground combat roles to women."
Earlier this month the US government announced it would open all jobs in combat roles to women. But some critics of the move have expressed concern about the physical side of close combat.
Democratic frontrunner, Hillary Clinton, who hopes to become the first woman president and was quick to praise the announcement a fortnight ago. She said, according to CNN: "We've seen women in our armed forces prove their heroism and abilities, now our official policy is catching up and women who are qualified for these positions should be able to compete and win them."
Labour peer and former First Sea Lord, Lord West, told Sky News that women have less upper body strength than men so may struggle with hand-to-hand combat. He said: "Generally when you look at averages, women have one-third less upper body strength. I want forces that can win.
"But there is no doubt whatsoever women are very brave and we have been willing to let women die in wars. Actually they are very competent, particularly in computer operating, they have longer concentration powers than men, so on all those things there's no reason at all why they can't be involved."