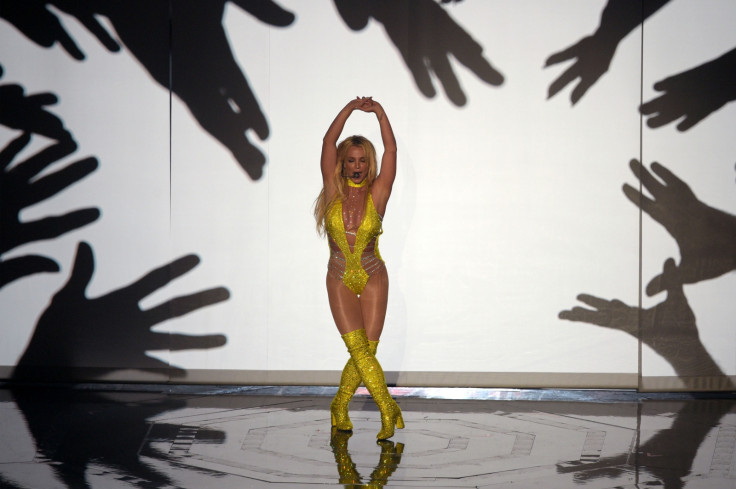 Britney may not have felt so Lucky after her MTV VMAs 2016 comeback performance for new single Make Me as. It was business as usual as she took to the stage in a signature, barely-there leotard and was joined by rapper G-Eazy for a raunchy, well choreographed performance. However, her Sunday evening resurgence was marred by accusations of lip syncing.
Admitting her long-awaited return to the stage was"nerve-racking" at a conference on 26 August, Britney's cause was not helped by scheduling – having to follow Beyoncé in a segment that was met with a standing ovation. This, during an awards show where Queen Bey cleaned up on the gongs with genre-busting visual album Lemonade.
Taking the stage in trademark leotard in bright yellow with matching over-the-knee boots encrusted in jewels, flanked by with dancers in modest monochrome outfits – Britney performed new single from well-received album Glory. However, within minutes she was facing social-media criticism for reportedly lip syncing.
Perhaps viewers haven't completely forgiven her for the out-of-sync, rather mechanical comeback at the 2007 VMAs for Gimme More but a messy divorce, two rehab stints, a head shave and bad wigs will do that to you.
Critics were quick to question her VMA 'live' singing ability as, mere days earlier, she was criticised for lip syncing during an appearance on The Late Late Show with James Corden during his renowned Carpool Karaoke segment.
However, it has since emerged that Brit wasn't too keen on dredging up old songs, telling an interviewer on 103.5 WKTU: "Of course 'Baby' and 'Oops'. Oh my God, and he kept playing them! He put a damn wig on for it. Yeah I totally went along with it."
The VMAs 2016 Twitter response went from highly critical to mid-level disappointment:
However, certain media outlets – such as E! News – were more than complimentary about the star's return to the public arena.
Britney had the last laugh as a VIP endorsement was sat waiting backstage for her seconds after her performance.
Hanging with Britney Spears at the ceremony left 'obsessed' Kim Kardashian reportedly starstruck. As he lost out on VMA awards, consoling husband Kanye West wasn't on Kardashian's agenda – who instead came out as Britney's biggest supporter. Following her introduction to the Make Me live debut, Kim K greeted the singer backstage immediately after the performance. She even took to Snapchat to share a video with an obvious introduction:"It's Britney, bitch" – with the pair duck-facing to camera.