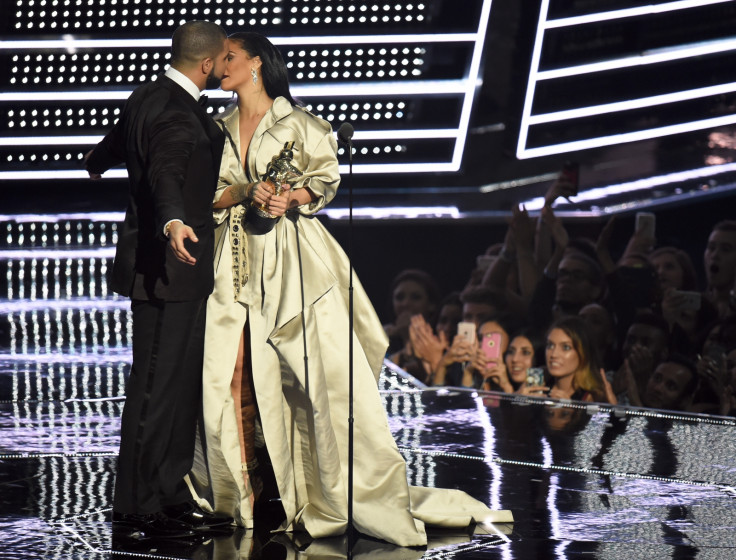 Will Drake propose his long-time love interest Rihanna after their PDA on the stage of MTV Video Music Awards 2016? This is the question that is keeping fans engaged on social media after the heartfelt speech and confession of love by the rapper during the VMAs on 28 August.

The Hotline Bling hitmaker took to the VMAs stage on Sunday (28 August) to honour the Barbadian singer after she performed for the final time in the award show last night.
As he presented Rihanna with the Michael JacksonVideo Vanguard Award, he took a moment to confess his feeling for his Work co-singer. When on-stage, not only did he surprise the 28-year-old songstress, but also sent their fans on frenzy by ending his speech with a kiss.
"She's someone I've been in love with since I was 22 years old" he revealed adding, "She's one of my best friends in the world. All my adult life i've looked up to her even though she's younger than me."
And, this moving message was enough to excite the singing duo's fans and followers, who took to the social media to speculate if the Controlla singer would be proposing the Kiss it Better songstress.
"I think MTV cut out Drake's marriage proposal to Rihanna because it would have been too much for the general public to handle," wrote one user on Twitter. "Raise your hand if you though @Drake was going to propose to @rihanna #VMAs," added another. Some went a step ahead with advices as they suggested, "drake if you PROPOSE NOW, she won't be able to say no."
While, the proposal was too far-fetched a dream, Drake did deliver a powerful speech, where he candidly praised Rihanna.
"Captivating from day one, the iconic being that is Rihanna was already at a place where most artists only dream of going. For them, that's often the peak, but for her, that was a starting point and she has kept ascending to an untouchable level ever since," he exclaimed.
The Canadian singer continued: "This woman has surpassed all competition while still being the same girl from Barbados, surrounded by the same friends, speaking with the same accent and never missing a Crop Over unless it's to come perform at OVO Fest."