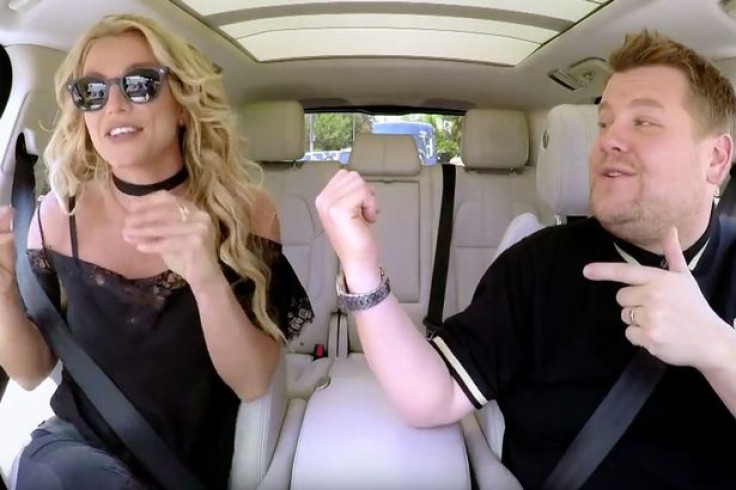 It was Britney Spears' time to have a go at Carpool Karaoke on The Late Late Show with James Corden – and after his last guest happened to be America's first lady Michelle Obama, she had a hard act to follow.
But the Toxic hit maker lived up to expectations with her appearance on the sensationally popular television segment. Though she received criticism for miming along to songs, she divulged a good dose of her private life, but failed to explain the meaning behind some of her hits.
When asked by Corden what her hit song "Oops! I Did It Again" was really all about, she replied: "I don't know. I really don't know. I think it's just a song."
"Every time I order a Dominos I think, oops I did it again," Corden hilariously quipped back.
The 34-year-old singer – who looked fashion-forward and better than ever in an off-shoulder top, distressed black jeans and a 90s-inspired choker necklace – went on to discuss love and marriage, and wanting more kids.
Quoting the Ace of Base song All That She Wants, Spears sang: "all that she wants is another baby", while revealing she was feeling broody.
She told British comedian and TV host Corden: "I want three more. I have to find the right guy first, and then, you know..."
Corden replied: "Tell him he's going to be a father to three children" before Spears said: "All that she wants is another baby."
Spears is a mother to Sean Federline, 10, and nine-year-old Jayden James Federline – who she had during her second marriage to husband Kevin Federline between 2004 and 2007.
Sensing she was open to talking about her personal life, Corden went on to ask what she was looking for in her next man. Spears was happy to oblige Corden's question, responding: "I think I might not ever go to men again, ever do the whole men thing again, or get married, I'm just done with men. I may French kiss someone, but I'm not going to marry anyone, no. I don't believe in marriage anymore."
Following her revelations, Spears enjoyed a sing-a-along session with Corden whilst he chimed in at the wheel. Fans slammed the Womanizer singer for lip-syncing during the songs, with one viewer writing on Twitter: "miming as per joke", as another posted: "has mimed on her #CarpoolKaraoke, it's not like she's known for miming is it..."
Watch Michelle Obama on James Corden's Carpool Karaoke here.