Brooklyn Beckham proves he really is a chip off the old block, as he makes his modelling debut.
The 15-year-old has appeared on the cover of Man About Town magazine in a pose reminiscent of his fashion icon father, David Beckham.
The pictures were taken by "friend of the family," photographer Alasdair McLellan, who shot fashion designer Victoria Beckham for UK Vogue and the former England football star for Fantastic Man.
It's the first time the teenager has taken part in a fashion shoot and his whole family turned out to support him.
A source said that David and Victoria Beckham are keen to support all of their children's interests, but are not pushy parents.
"David and Victoria are immensely proud of all their children, and they never push them into anything even though the boys get lots of offers.
"Brooklyn is focused on school and soccer, but of course he was so excited to get his first magazine cover shoot as he's interested in photography like his dad.
"The photo shoot was shot over a weekend and all the family went along to support Brooklyn.'
Man About Town Editor-in-Chief Ben Reardon said Brooklyn epitomises a teen fashion icon.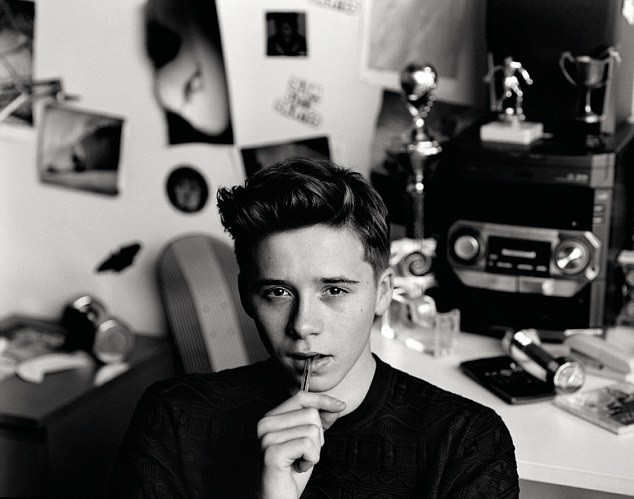 "We are thrilled to feature Brooklyn Beckham in a world exclusive on the cover of the Spring/Summer 2014 issue of Man About Town.
"Brooklyn's first published editorial is a 20-page fashion story celebrating teenage style, which shows a warm and honest insight into the moment men begin to express themselves through clothes," explained Reardon.
"We could not have wished for a stronger subject than Brooklyn to bring this story to life. He was a diligent, relaxed cover star for his first ever fashion shoot.
"The story was a genuine pleasure for all involved. Brooklyn was a true professional and had a keen eye in the styling process, collaborating on selections from designers including Ralph Lauren, Saint Laurent and Supreme.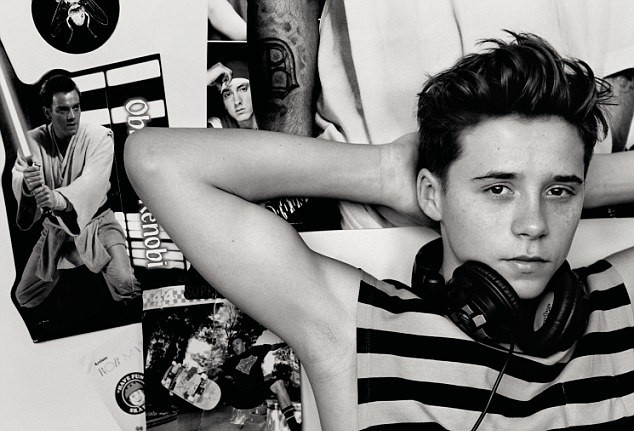 "It is clear that he is becoming a credit to the family name, not only possibly the most famous in the world but one with a wealth of heavyweight fashion influence behind it."
Brooklyn has clearly been inspired by his mother's love of fashion, as he is pictured wearing labels including Ralph Lauren, Saint Laurent and Supreme.
The teen turns cover star for the magazine, with his hair styled into a quiff, as he wears a tie and in a navy blue bomber jacket. The word 'Quiche' is emblazoned on the front of the magazine, referring to the new term for 'hot,' coined by Australian comic Chris Lilley in his hit HBO series, Ja'mie: Private School Girl.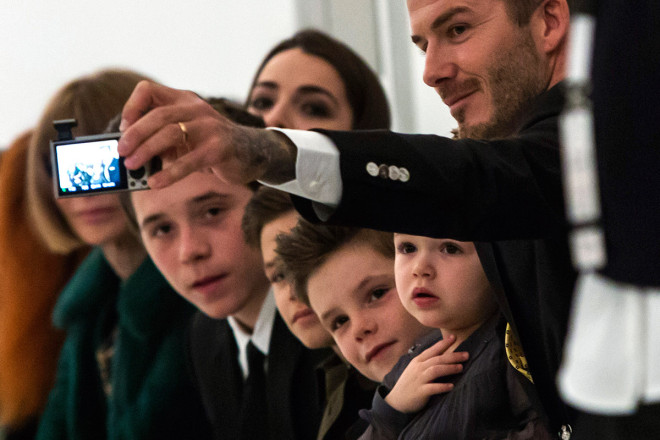 Brooklyn's younger brother, 11-year-old Romeo has already made his foray into the modelling world, after starring in a Burberry campaign in December 2012.
As well as demonstrating a flair for fashion, Brooklyn is believed to have his inherited his dad's skills for soccer. The young star in the making has had trials at Chelsea in January 2013 and has been training with Queens Park Rangers' academy.