Brother of Omran Daqneesh, Syrian boy pulled from rubble, dies from injuries
Ali Daqneesh reportedly suffered from internal bleeding and organ failure.
The older brother of Omran Daqneesh, the little boy who was rescued from under the rubble in Syria's embattled city of Aleppo, has died from injuries sustained when Russian or Syrian regime air strikes hit their family home in Aleppo, a local council official and activists said.
The Syria Solidarity campaign posted on Facebook saying: "Ten year old Ali Daqneesh passed away today due to his injuries from the bombing of his house by Russia/Assad."
According to reports, Ali was not at home and was playing outside with his friends on the street when the bomb fell on Wednesday, 17 August. His family members sustained injuries when their house collapsed but he was more seriously injured. An anonymous witness told Reuters that Ali suffered from internal bleeding and organ failure.
A Syrian activist, Kenan Rahmani, wrote online about the plight of Syrian children: "Omran became the 'global symbol of Aleppo's suffering' but to most people he is just that – a symbol. Ali is the reality: that no story in Syria has a happy ending."
Omran reflected the horrors of Aleppo as he sat in an oversized chair in an ambulance looking dazed, barely even noticing the injury on his forehead, covered in dust and blood from head to toe.
The picture of little Omran was carried by the media around the world and trained the spotlight yet again on the suffering of civilians in Aleppo, living in grave conditions as barrel bombs are constantly dropped from government and Russian war planes.
Aisha, a mother of two, who fled after barrel bombings but still lives in the countryside of the embattled city, said: "All Syrians, and me, thank the world for their feelings of sorrow, but why don't you help us to find peace? The cause of this is Bashar al-Assad."
Since the rebels made advances last month, effectively breaking the siege, Russian and Syrian regime air strikes have intensified on eastern Aleppo. According to the Syrian Observatory for Human Rights, at least 448 civilians have been killed in air strikes this month in and around Aleppo.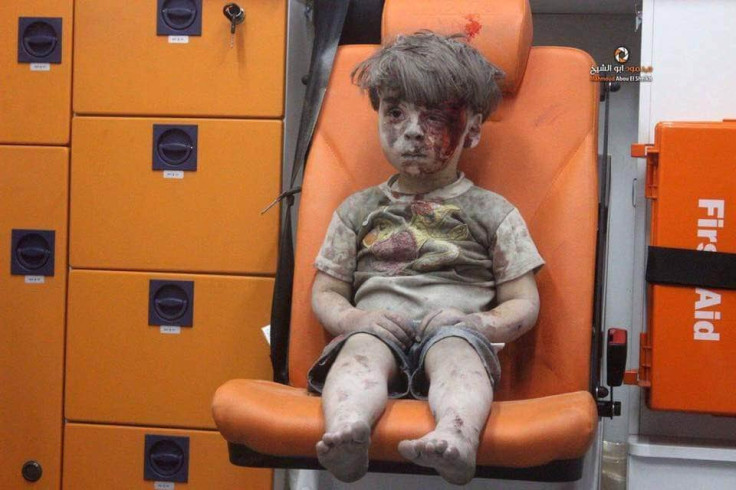 © Copyright IBTimes 2023. All rights reserved.