Heartbreaking video of Syrian boy pulled from rubble in Aleppo after pro-Assad air strikes
The image of the boy covered from head to toe in dust and blood was shared widely on social media.
Horrific footage from Syria's brutal civil war has emerged from the embattled city of Aleppo showing five-year-old Omran Daqneesh dazed, shocked and bloodied after being pulled from the rubble following a pro-Assad air strike.
Omran was one of five children injured in the air strike late on Wednesday (17 August). Two men and a young woman were also injured according to a doctor speaking to Associated Press on condition of anonymity.
The air strike Omran survived was reportedly carried out by Russian warplanes targeting the Qaterji neighbourhood of Aleppo. The city and surrounding areas have been under heavy bombardment by the Assad regime and allies in recent weeks, following a rebel counter offensive.
Like the image of young Aylan Kurdi, whose tiny body washed up on Bodrum beach in Turkey came to epitomise the human tragedy of Europe's refugee crisis, already the footage of Omran has galvanised public opinion on the siege of Aleppo.
The video, supplied by Aleppo Media Centre, has been shared widely on social media. Former British Foreign Secretary David Miliband, now CEO of the International Rescue Committee tweeted a picture of Omran saying "The stunned, bloodied face of a child survivor sums up the horror of Aleppo".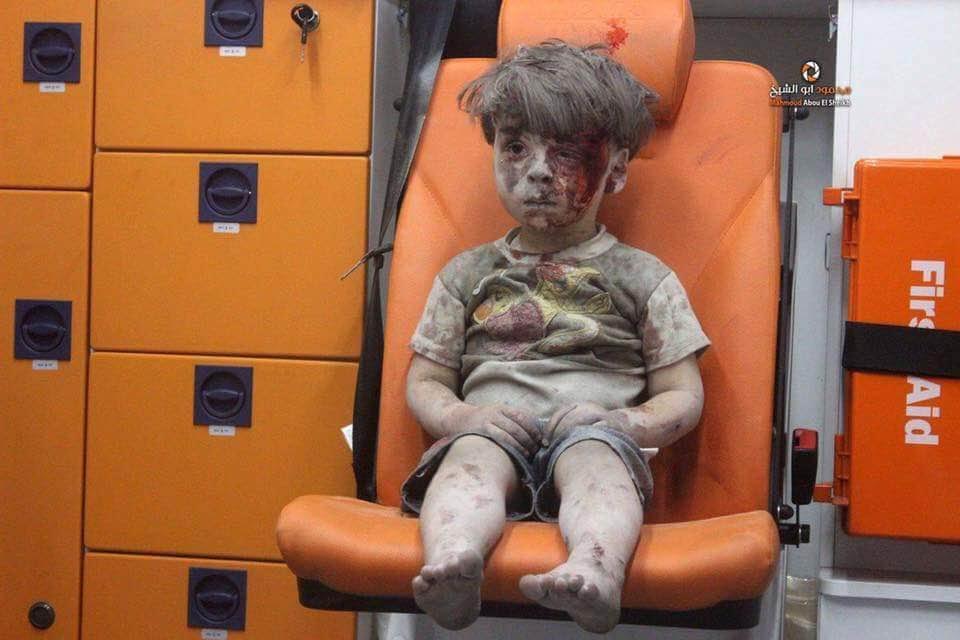 Omran was taken to the M10 hospital, where physicians have treated his head injury and cleaned the dust and rubble stuck to his hair, eyes and clothes. Doctors in Aleppo use code names for hospitals, which they say have been systematically targeted by government air strikes. The hospital also has been struck frequently by air strikes. Doctors said they treated 12 more children, all of whom were under the age of 15, on Wednesday.