Sadly, the world will soon forget about Omran Daqneesh just as it forgot about Alan Kurdi
Social media is a powerful weapon, but hashtags can create a false sense of doing something meaningful.
A video and photograph of a young Syrian child sitting dazed and bloodied in an ambulance after having been rescued from a building destroyed by regime airstrikes in Aleppo has sent shockwaves around the world and was widely shared on social media.
The boy has been identified as five-year-old Omran Daqneesh, who was wounded on Wednesday following an attack on the rebel-held al-Qaterji district. His parents and three siblings are also believed to have survived the attack, but many others have not been so lucky – the civil war in Syria is not new and an estimated 400,000 people have already lost their lives in the brutal conflict with no end in sight.
As a result, we are being flooded with around-the clock images of fleeing civilians and rescue workers climbing through the rubble of what is left of Syria's cities. Since the emergence of the Islamic State – the terrorist organisation which has launched an unprecedented media campaign with social media at the heart of its operations – people have also been confronted with extreme and graphic images of violence.
Islamic State has released videos and photographs of amputations, beheadings, crucifixions, stonings and other gruesome murders, freely available on Facebook, Twitter, Instagram or any other social media platform of your choice. The frequency and intensity with which they release their material has made us morally immune to the horrors of war. While at the height of al-Qaeda's power, a beheading was still something worth reporting but Islamic State has turned it into the new normal.
Their victims have become nameless and faceless bodies in a statistic with no regard for the fact that behind every beheading, crucifixion and stoning stands a human being with an individual story of his or her own – someone's husband, or daughter, or brother, who has been taken forever from their loved ones. For us, it is either too painful or too abstract to identify with the victims of their crimes in a far-flung place.
Social media provides us with an outlet to deal with such frustrations. We are Generation Hashtag – social media platforms have become an essential tool for keeping a cause in the public consciousness. Raising awareness through the ability to reach millions with one tweet is a powerful weapon and extremely useful to synthesise a complex issue into something that is easily understood and shared by many.
Whilst Alan has become a symbol for the plight of refugees, Omran has given a face to Syria's brutal civil war.
But hashtags can also create a false sense of doing something meaningful. They can never replace real action. Like everything on social media, an environment which operates at incredible speed, a story disappears as quickly as it arrives – and as the corresponding hashtags fade away, so does the memory of the victims.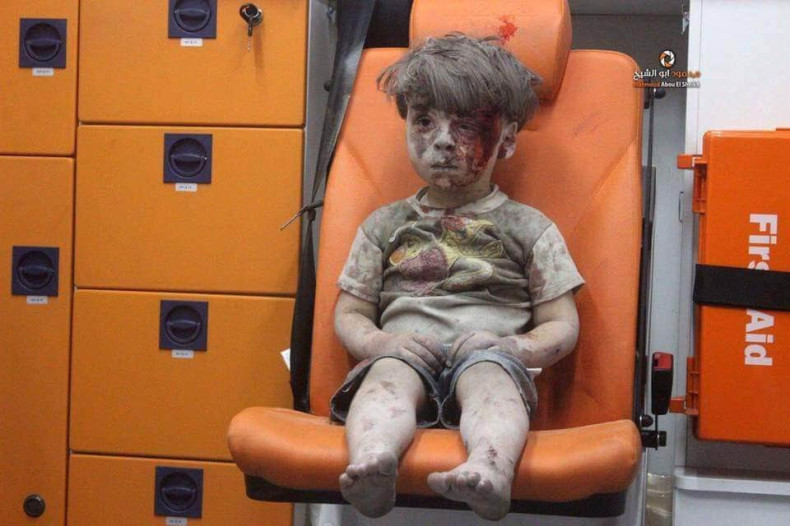 Take for example the case of Alan Kurdi, the drowned Kurdish boy from Syria whose body was found on a beach in Turkey in September last year. His story echoes the global response to the photo of Omran Daqnessh. Whilst Alan has become a symbol for the plight of refugees, Omran has given a face to Syria's brutal civil war.
However, after a couple of feature stories and interviews with Alan's relatives, his name slowly slipped from the headlines, with the reality on the ground unchanged.
Syria is increasingly being written off as a lost cause in the absence of a coherent and effective strategy five years into the conflict. Although the US-led coalition has made significant progress in the fight against Islamic State in the northern parts of the country – with the help of predominantly Kurdish groups – the attempt to work with Arab rebels has largely ended in failure or disappeared into thin air. As a result, many civilians find themselves trapped between Assad's bombing raids and the fundamentalist religious codes enforced by Islamist rebels.
Last week, an alliance of different Arab rebel groups, including hardcore Salafist outlets, broke the longstanding government siege on the eastern half of Aleppo. Since then, the frequency of airstrikes has increased and resulted in the death and injuries of hundreds of civilians, including the young boy by the name of Omran Daqnessh.
Unfortunately, the world will soon forget about him as it forgot about Alan Kurdi. The victims of Assad's killing machine and Islamic State's annihilation campaign cannot protect themselves with our tweets, nor can they eat our prayers or drink our sympathy. To bring the immeasurably bloodshed in Syria to an end requires more than the dwindling outrage of Generation Hashtag.
---
Julie Lenarz is the Executive Director of the Human Security Centre.
---