Burberry Group says it remains focused on implementing its proven core strategies to attain long-term growth while continuing in the demanding macro environment. The group is scheduled to release its trading update for the six months ended March 31, 2012 on Tuesday.
According to the guidance given by Burberry for the second-half of the financial year in October 2011, the group has planned to increase its average retail selling space by about 15 percent and also expects to open around ten mainline stores, including in China, Latin America and a flagship in Paris.
The global luxury goods manufacturer and retailer anticipates its wholesale and licensing revenue to grow by a mid single-digit percentage at constant exchange rates.
Licensing revenue at reported FX is still anticipated to rise by around 10 percent, whereas, capital expenditure is still planned at £180-200 million for the year, said Burberry.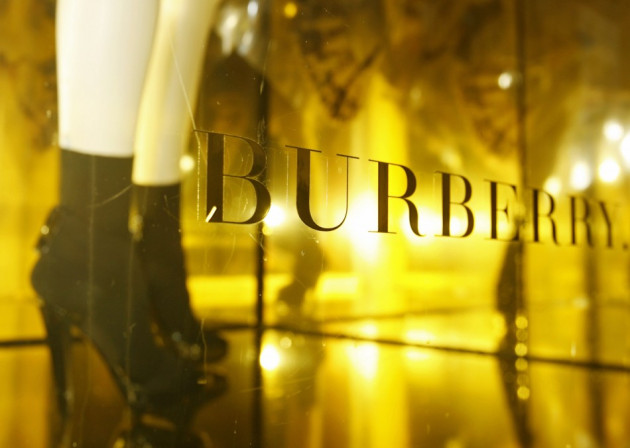 "As we begin to see initial returns from five years of infrastructure investments, we are confident that this solid foundation will enable us to optimise both our strong brand momentum and the luxury sector's opportunities, especially in high-growth flagship and emerging markets. As the team has demonstrated in the past, we remain mindful of, and prepared to react to, any local or global uncertainties as we drive for long-term sustainable growth." said CEO Angela Ahrendts while commenting on the growth prospects.
Ahead of the group's fourth quarter trading update, UBS has raised Burberry's stock price target to 1,580 pence from 1,370 pence and expects the group to post sales growth (constant currency) of 16.5 percent. This will reflect the effect of strong comparatives and specific wholesale, and it also expects that FX will have a negative impact on sales to the tune of -1.3 percent.
UBS anticipates a 12.5 percent like-for-like growth in retail sales for the last three months of FY 2012 and just 2.4 percent sales growth (constant currency) is expected in Wholesale.
Below is a summary of sector comparisons in terms of price earnings, earnings per share, dividend per share, dividend yields, return on equity and price-to-book ratio. The table explains how the company is performing against its peers/competitors in the sector.The table below represents top ten companies based on market capitalisation.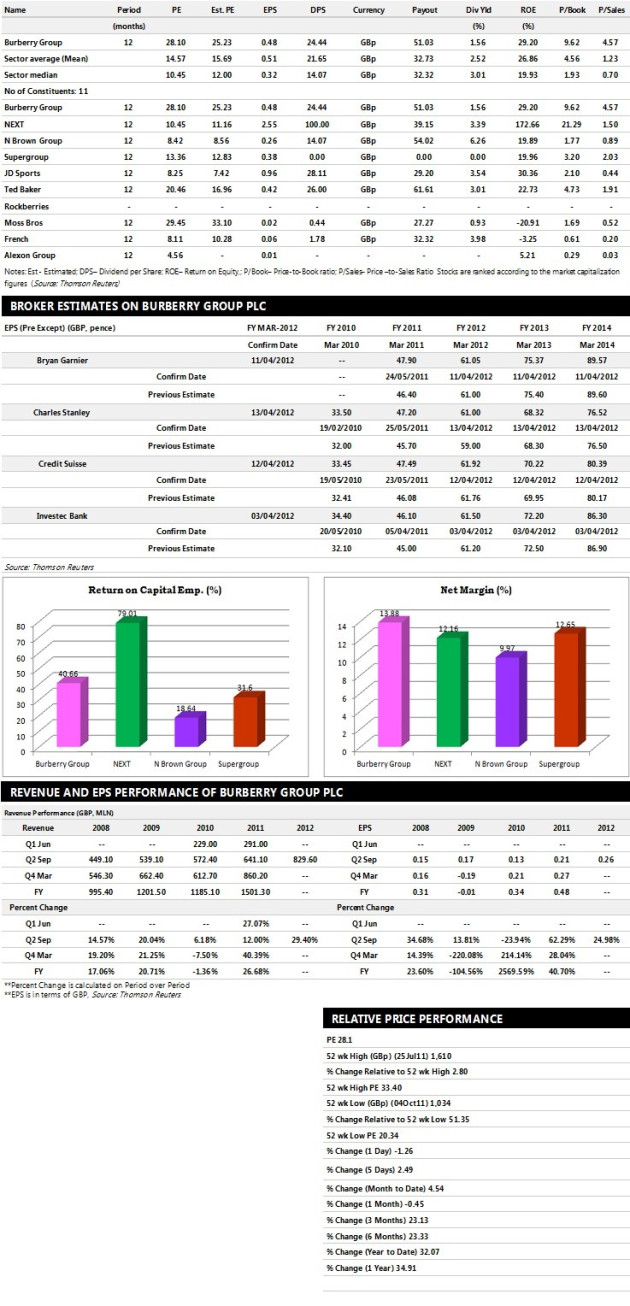 Brokers' Views:

- Charles Stanley recommends 'Hold' rating on stock
- Credit Suisse assigns 'Neutral' rating
- Bryan Garnier gives 'Buy' rating with a target price of 1,600 pence per share
- Investec Bank gives 'Buy' rating with a target price of 1,690 pence per share.
Earnings Outlook:

- Charles Stanley estimates the company to report revenues of £1,850.00 million and £2,000.00 million for the FY 2012 and FY 2013 respectively with pre-tax profits (pre-except) of £375.00 million and £425.00 million. Earnings per share are projected at 61.00 pence for FY 2012 and 68.32 pence for FY 2013.
- Credit Suisse projects the company to record revenues of £1,848.00 million for the FY 2012 and £2,082.00 million for the FY 2013 with pre-tax profits (pre-except) of £373.00 million and £424.00 million respectively. Profit per share is estimated at 61.92 pence and 70.22 pence for the same periods.
- Bryan Garnier expects Burberry Group to earn revenues of £1,878.00 million for the FY 2012 and 2,201.00 million for the FY 2013 with net profits of £271.70 million and £335.40 million respectively. EPS is projected at 61.05 pence for FY 2012 and 75.37 pence for FY 2013.