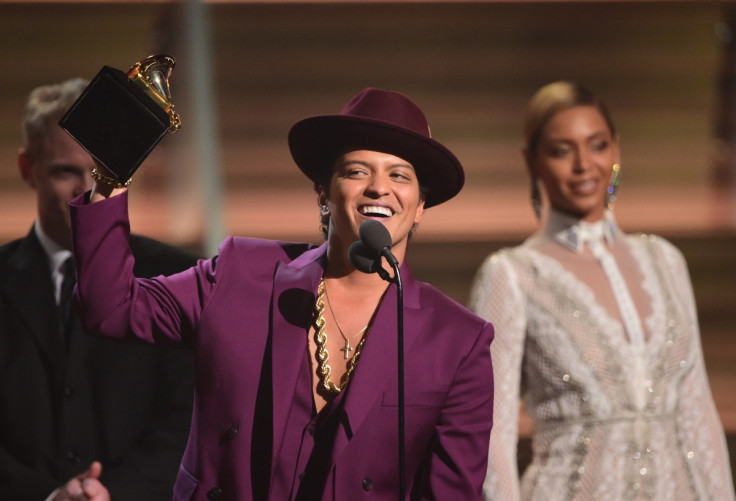 He is a Grammy-winning singer who has topped the charts across the globe, sold millions of records and even headlined the Super bowl half-time show, and now Bruno Mars' career is about to hit the major league.The Sun reports that the Uptown Funk crooner is in talks with Caesars Palace for a multimillion dollar residency deal at the Las Vegas hotspot.
A source confirmed showbiz bosses are hoping to sign the 30-year-old entertainer for a staggering £750,000 ($977,000) per show. "Caesars feels Bruno will bring something completely different - he can sing, dance and play," the insider said. "His music appeals to many ages and he can draw huge crowds. This will send a shock wave around the industry."
The source continued: "Bruno will use Vegas as his main home for his next tour rather than just trek around the world. Had things worked out differently Michael Jackson would now have a residency, Bruno is the closest modern version."
Mars was first linked to the world-famous venue earlier this year when The Righteous Brothers singer Bill Medley said during an appearance at Caesars Palace 50th Anniversary Gala that he had heard bosses were "talking to Bruno Mars". He added: "I'd love to see him here."
Mariah Carey, Sir Elton John, Rod Stewart and Celine Dion are just a few of the famous artistes the Caesars Palace resort has hosted in its illustrious history. If he does follow in their footsteps, it could mean a further delay for his highly-anticipated third album. His father Peter Hernandez recently told fans that the follow-up to 2012's Unorthodox Jukebox would be unveiled later this year.
He said: "It was due in March, but by doing the Super Bowl, it threw him back several months. Bruno has seven great new songs - I've heard 'em - but the album should now be released in September or October, to qualify for next year's Grammy Awards."