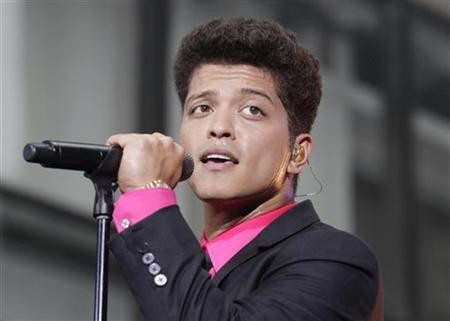 Bruno Mars has thanked fans for their messages of support following his mother's sudden death from brain aneurysm.
The singer, real name Peter Gene Hernandez, spoke out for the first time since Bernadette Hernandez passed away after reportedly suffering a brain aneurysm to reassure supporters he would be "back on his feet".
"So thankful for all the love during the most difficult time in my life," the 27-year-old star told his 16.3m followers on twitter. "I'll be back on my feet again soon.Thats what mom wants, she told me."
Hernandez was rushed to Queens Medical Center in Honolulu, Hawaii after suffering a heart attack on May 31.
The mother-of-five is believed to have passed away from a subsequent brain aneurysm on June 1. She was aged 55.
After news of his mother's death broke, several celebrities tweeted their condolences
Rihanna tweeted: "Sending my love and condolences to @BrunoMars at this difficult time! I'm sincerely praying for you bro! #1Love."
Former American Idol judge Randy Jackson also expressed his sympathy, tweeting: "Terrible news. Praying for you @brunomars."#
Hernandez is survived by her Grammy-winning son, his brother Eric and their four sisters Presley, Tahiti, Tiara and Jamie.
Mars, known for hits including Just the Way You Are and Grenade, is set to kick off his Moonshine Jungle World Tour on June 22 at the Verizon Center in Washington D.C.