Under fire Philip Hammond has been given a much-needed boost by the Institute for Fiscal Studies (IFS) over his National Insurance Contributions (NICs) rise for the self-employed, announced in his 2017 Spring Budget on Wednesday (8 March).
Think tank director Paul Johnson said the Chancellor's decision to scrap class two NICs for self-employed workers from April 2018 and increase the main rate (class four) NICs by 9% to 10%, with an additional 1% hike in April 2019, was a "small step" in the right direction.
"Clearly the most controversial announcement yesterday was the increase in self-employed NI rates. This appears to break a foolish manifesto commitment not to raise any of the major taxes," Johnson told a group journalists, academics and business people.
"On the other hand, it is a small change taking a small step to correcting a big problem with the current tax system.
"The problem needs a much more thorough review and strategy to deal with it, as do many other problems in the tax system. If politicians continues to make silly manifesto pledges about not changing taxes and the rest of us resist sensible changes such as this, we will end up with the tax system we deserve – inefficient, inequitable, complex and increasingly unable to raise revenue in the fact of a changing economy."
The comments come as Hammond faces a backlash over the reform because the Conservatives promised not to raise VAT, income tax or NICs in their 2015 general election manifesto.
At least 14 Tory MPs, including former leader Iain Duncan Smith, have expressed doubts about the NICs hike.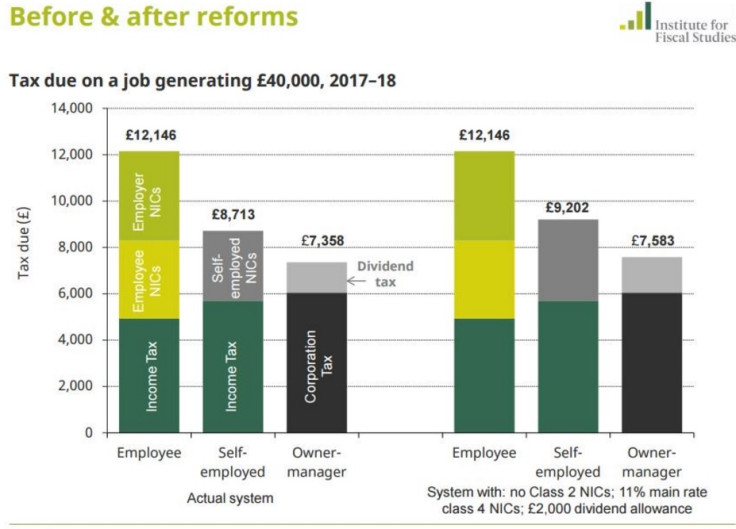 Number 10, meanwhile, has failed to rule out a review on the increase after being quizzed by journalists on Thursday. The Liberal Democrats have subsequently branded the episode as the "OmNICshambles Budget", a reference to George Osborne's 2012 Budget.
"The Budget was a car crash yesterday and the government is reeling," said Liberal Democrat Treasury spokeswoman Baroness Susan Kramer.
"It should listen to calls on our benches and their own and pause this plan. With such a slim majority the government are playing with fire and are demonstrating yet again they are no longer the party of business.
"I can only assume they just take for granted the millions of self-employed and think they will vote Tory come what may. I think this OmNICshambles budget will show them that is not the case."
The row has also overshadowed Hammond's announcement of £392m for the Midlands on Thursday. The Chancellor travelled to Dudley to unveil the pledge, which is designed to boost investment in skills, connectivity and local growth in the region.
IFS analysis of NICs hike
Any self-employed person with profits of less than about £15,570 will be left better off.
The maximum loss, affecting those with profits over £45,000, will be £589 per year.