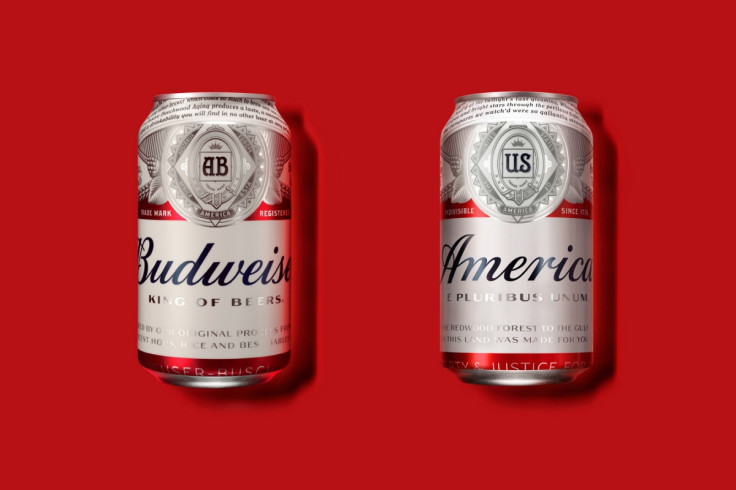 Budweiser, an American-style lager produced by Anheuser–Busch InBev, is to change its flagship product's name and slogan on the labels of its beer cans. The name Budweiser will be replaced with 'America'.
Also, the slogan on the label which reads The King of Beers will be replaced with E Pluribus Unum and lyrics from the US national anthem, Star Spangled Banner and an American patriotic song, America the Beautiful. A spokesperson for Anheuser-Busch InBev said the changes would be made effective on its 12-ounce Budweiser beer cans and bottles.
The rebranding process which will be part of a campaign titled America is in Your Hands will be effective from 23 May until the presidential vote in November. While the company said the move is aimed to "remind people... to embrace the optimism upon which the country was first built", it is seen as an effort to capitalise on the US election fever. Ricardo Marques, vice-president of Budweiser said: "Budweiser has always strived to embody America in a bottle."
The rebranding comes during the busiest season for beer sales. "We are embarking on what should be the most patriotic summer that this generation has ever seen, with Copa America Centenario being held on US soil for the first time, Team USA competing at the Rio 2016 Olympic and Paralympic Games," Marques added.
The move comes at a time when Budweiser is experiencing a decline in US sales in recent years. There is also a shift in consumers' tastes from large commercial brands to craft beers, which are beers that are made in a traditional or non-mechanized way by a small brewery.
Scott Galloway, a professor at New York University, opined: "This is a bold move. It's a bit like if Apple changed its name to 'innovation', because one of the core associations of (Budweiser) is already America. It could be a stroke of genius, but I think it's a risky change... to what is arguably one of the world's greatest brands."