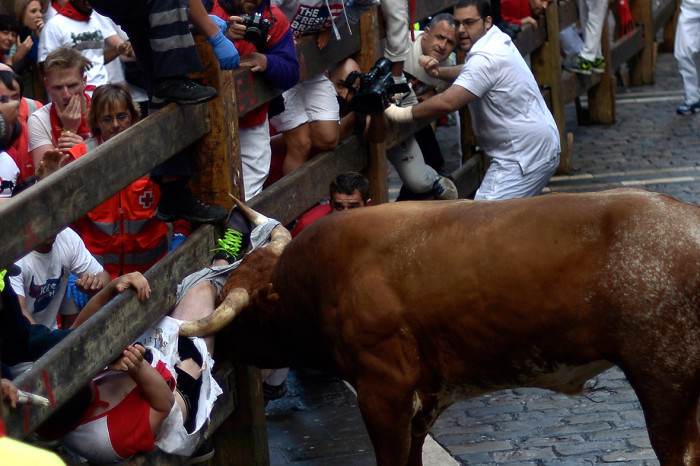 Two men have been gored to death in a bull-running festival in the small Portuguese town of Moita, 20 miles south of the capital Lisbon.
The men, aged 27 and 46, were among thousands of spectators taking part in the annual "running of the bulls", where the town's narrow streets are barricaded and bulls taunted.
Spectators are warned of the dangers of participating, the authorities said. It is not known where the men were from, how they died or if they were killed by the same bull. The festival – which also includes traditional bull-fighting as well as music, folklore and decorated boats – will continue on Monday.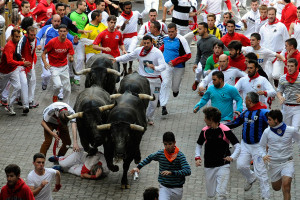 Last year Chelmsford holidaymaker Brian Gage, 57, narrowly escaped death at the Moita festival when he was gored by a 1,300lb bull, despite trying to escape up a tree.
Gage was dragged for 180 meters but the creature and suffered five broken ribs and a dislocated shoulder as well as having 300 stitches.
His life was saved by locals who managed to distract the animal by pulling its tail.
The most famous bull-running takes place at Pamplona in Spain, made famous by Ernest Hemingway in his book The Sun Also Rises (also known as Fiesta). Each year 200 to 300 people are injured at Pamplona and since 1910 15 fatalities have been recorded – most recently that of 27-year-old Spaniard Daniel Jimeno Romero in 2009. This year a 23-year-old man from Nottingham was seriously injured at the festival.
In recent years protests by animal rights groups have intensified. In Pamplona the group PETA organises an annual "running of the nudes" as a protest against bull-running. In Mexico it is thought that seven out of ten people are now opposed to the practise, though it remains legal.
(The injured men are not pictured in the photographs used in this report.)