Two Britons - both Londoners - and one American have been injured during the annual running of the bulls in Pamplona, Spain.
The trio were gored after one of the bulls broke free from the pack just before entering the city's bullring, a Navarre regional government spokesman said.
The two Britons have been identified as Liam Tarff, 29, an insurance worker from Brixton, south London, who was gored in the left thigh, and 20-year-old Nick Couchman, an events organiser whose right thigh was pierced during the run. The 39-year-old American, from Philadelphia, sustained an injury to his right calf muscle.
A total of seven people were injured on the third day of the bull run, which lasted three minutes and 32 seconds.
The bull runs are the highlight of the San Fermin festival, an annual celebration honouring the patron saint of the town, which attracts tourists from across Spain as well as around the world. More than 20,000 people descended on the town for last year's festival.
Pamplona has become synonymous with the running of the bulls, a tradition that originated in northeastern Spain in the early 14th century, when butchers bringing cattle to market would try to excite the animals to get them to run from the corral to the bullring. A fully fledged competition soon developed, in which young men would deliberately run in front of bulls and attempt to make it to safety before being savaged. The event was immortalised in Ernest Hemingway's 1926 novel, The Sun Also Rises.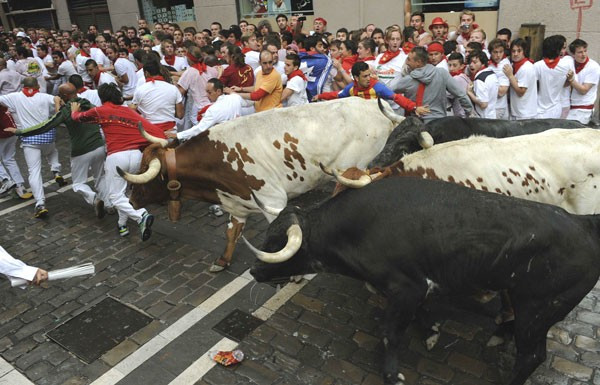 The huge bulls, which weigh over 500kg, are unleashed on the crowd and rampage through the town, attacking anything in their path. While many runners train for the event, the inexperienced are also allowed to participate in the race. The bulls reach average speeds of 24km/h, forcing competitors to run for their lives through the narrow streets of the town over a length of 826 metres.
Scores of daredevils and thrill-seekers are attracted every year. Although most runners are injured from falling over, participation can be fatal and there have been 15 deaths since records started being kept in 1924. The last death took place three years ago.
The week-long festival continues until 14 July.
Naked Protest by Animal Rights Campaigners at Pamplona Bull Run [SLIDESHOW]