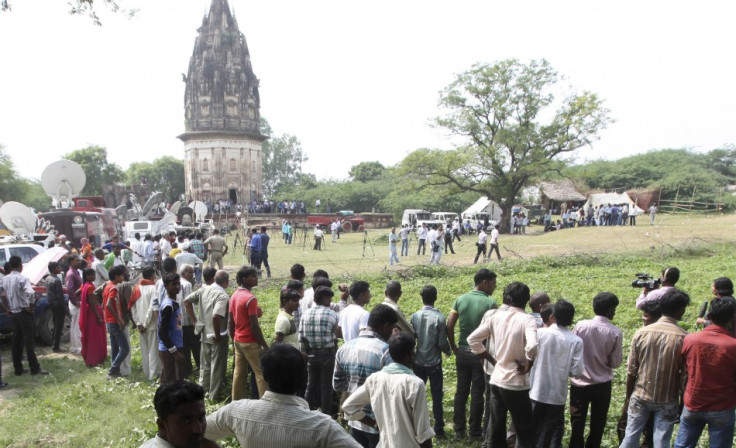 Archaeologists are excavating the ruins of a 17th-century palace near Lucknow where a guru once dreamed that 1,000 tons of gold are buried.
Digging started on a wooded mound next to the Shiva temple in paddy fields near the village of Daundia Kheda.
A near-stampede was averted by police who beat back hundreds of people with sticks after rumours spread that a fifth of the £26bn gold treasure trove would be given to villagers.
Swami Shobhan Sarker, a local guru, claimed that King Raja Rao Ram Bux Singh, who was killed by the British in 1857, had spoken to him in a dream, saying the gold should be used for the good of the country.
The king was captured and hanged in the village of Baksar, and a golden bust marks the spot where he was killed.
Charan Das Mahant, a junior agriculture minister, took the guru's claims seriously and asked the Archaeological Society of India to investigate.
A spokesman for the society said that studies indicated that precious metals could be buried there.
Locals have found silver and gold coins in the area in Unnao district, about 50 miles southwest of the state's capital of Lucknow, according to the swami's disciple, Om Ji.
As stories of the hidden gold treasure spread, Swami Shobhan Sarker refused to speak to reporters.
"My entire spirituality is at stake. Suppose there is no gold at all," he told the Sunday Times. "What will happen to me? The government may dub me a fake sadhu. My followers will desert me."
Experts believe the treasure may have belonged to Nana Sahib, a landowner who joined the 1857 mutiny against the British.
Over 1,500 villagers, television satellite trucks and treasure hunters have descended on the small town.
Bizarre claims about the treasure have begun to emerge. Rao Chandi Pratap Singh, who says he is directly related to the 17th-century king, warned that an earlier attempt to find the gold was thwarted by an attack of hornets.
Sarkar has also warned of terrible consequences if archaeologists fail to obey the demands of his dream. "If they ignore my suggestion the gold will vanish."
However, officials from the Archaeological Survey of India denied that they started the excavations at the guru's request.
"Archaeology doesn't work according to the dreams of a holy man, or anybody else. Archaeology is a science. We are carrying out this excavation on the basis of our findings," said Syed Jamal Hasan, an agency official.
Watch the video as excitement mounts over the archaeological dig for buried gold treasure