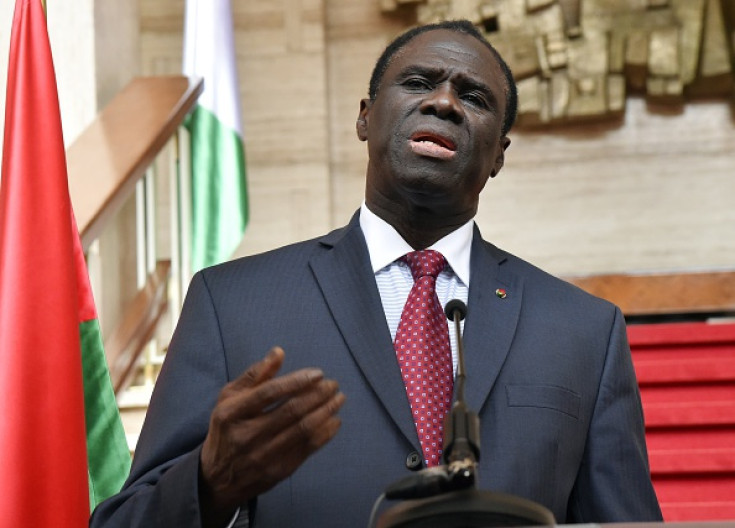 The army in Burkina Faso ousted interim President Michel Kafando in a coup d'etat on 17 September. Kafando, along with prime minister Yacouba Isaac Zida and two other ministers, was taken hostage by presidential guard loyal to the previous leader, Blaise Compaoré, ousted in 2014 as he was seeking to amend the constitution to run in October 2015's presidential election.
The hostages are being held at the presidential palace in the capital Ouagadougou and the military has declared that the government has been dissolved, amid reports of shooting in the capital.
Who is Michel Kafando?
IBTimes UK looks at Michel Kafando's political and diplomatic career, as the international community condemned the coup and dozens of people descended to the streets to call for the release of the hostages.
Kafando, 73, was born in the capital Ouagadougo in August 1942. He started his diplomatic career when he became the minister of foreign affairs of Upper Volta, modern day Burkina Faso, in 1982.
The same year, he was also appointed as vice-president of the UN General Assembly. He worked as the UN Ambassador of Burkina Faso from 1998 to 2011 and also served as the UN Ambassador to Cuba.
Kafando headed many delegations of the Organisation of African Unity. The UN said of him: "Among his accomplishments, Mr Kafando has initiated, elaborated and negotiated many bilateral and multilateral treaties, including cooperation agreements with friendly states, agreements on development financing and assistance, and the charters of various non-governmental organisations and institutes."
Kafando took office as interim president in October 2014 and was due to stay in power until presidential election, scheduled for 11 October 2015. He was appointed as the country's acting president after former leader Compaoré was ousted as thousands of people took to the streets to protest against his will to change the constitution in order to participate in the 2015 election, after 27 years in power.
The National Assembly was scheduled to hold a discussion on an eventual amendment to the constitution. However, those who opposed the move stormed the parliament building and set it on fire.
As the country descended into chaos, Compaoré declared a state of emergency and said he was willing to engage with the opposition to resolve the crisis. However, the army installed an interim government and dissolved the National Assembly. Compaoré later fled to Ivory Coast.
Why was Kafando taken hostage?
According to some analysts, the coup occurred in retaliation to the declaration of a commission, which suggested the disbanding of the presidential guard − the Régiment de Sécurité Présidentielle (RSP) − amid allegations they had fired on unarmed protesters during 2014 riots.
Two days later, on 17 September, the military confirmed that a coup occurred and appointed General Gilbert Diendéré as president on the newly-declared National Democratic Council.